The circumstances of Tyson Gay's positive drug test, such as the specific banned substance and the person who "let him down," have yet to surface, but another day brought more information surrounding Asafa Powell.
UPDATE: Italian authorities placed Powell, Jamaican teammate Sherone Simpson, who also tested positive, and trainer Chris Xuereb under investigation, according to The Associated Press.    

Prosecutors believe the trio violated Article 9 of the doping laws, which calls for punishment for whoever administers or consumes banned substances.
The Telegraph reported that the police raid on Powell and Simpson's hotel in Lignano, Italy, was requested by Powell and Simpson.
An Italian police captain told the AP it was unclear if the seized substances were illegal, but they were being analyzed.
Powell's publicist, Tara Playfair-Scott, posted on Powell's Twitter account that Aleve and 5-Hour ENERGY were in Powell's room and given to Italian police.
The Olympic medalist sprinters, who were made aware of positive drug tests Saturday and admitted them Sunday, contacted the World Anti-Doping Agency (WADA) and requested the raid, according to the newspaper.
After obtaining the necessary search warrant, Italian police arrived at the hotel on Sunday evening and searched the rooms of Powell, Simpson and Xeureb, before removing all supplements and medicines. Police said around 50 substances had been sent to a laboratory in Italy to test for the presence of performance-enhancing drugs.
The news made the front page of Italy's leading sports daily newspaper, Gazzetta dello Sport, on Tuesday.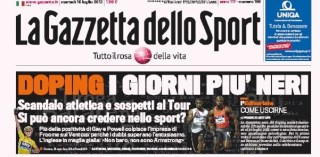 Powell was the 100-meter world-record holder before Usain Bolt took it over in May 2008. Simpson was the 2008 Olympic silver medalist in the women's 100.
Powell and Simpson were previously scheduled to compete in a meet in Lignano on Tuesday, according to the AP, but their names were not on the start lists as of Tuesday morning.
They, along with Gay, could face two-year bans from competition, assuming their "B' samples don't produce different results. However, suspensions have been reduced for athletes who make a strong case they unknowingly took supplements with banned substances.
Powell and Simpson's agent and a coach with their Jamaica track club, MVP, blamed Xuereb for the banned stimulant oxilofrine showing up on tests at the Jamaican national championships last month.
"Once we knew of the positive test, we realized that Asafa and Sherone were the only two athletes in the group who had been given new supplements by this physio that they are working with," their agent, Paul Doyle, told the Telegraph. "Asafa's had probably 150 to 200 clear tests in the past. He starts working with a new physio who gives him new supplements and all of a sudden he has a positive test in his first test. It's obvious there's no other reason why he would have tested positive other than something being in the new supplements he's been taking.
"So we immediately asked WADA to get the police there to go in and search everything in the physio's possession as well as everything in Asafa and Sherone's possession."
Doyle hired Xeureb in May to treat Powell for his persistent health issues, which flared up when he injured his hamstring in Australia in March.

"He'd been highly recommended by some other athletes who had worked with him and had no shadiness in his past that we knew of," he said. According to Doyle, Powell was put on more than a dozen different supplements by Xeureb but the labels were all checked in advance and none of the ingredients were on the banned list.
The MVP track club coach, Stephen Francis, said in an interview with a Jamaican radio station that Xuereb is renown with dark issues in the sport, according to the radio station's Twitter account.
The New York Times reported Xuereb injected Powell with a drug used by Lance Armstrong's U.S. Postal Service cycling team.
Powell's mother, Cislyn, told the Jamaica Gleaner that her son "is not a fool."
"This is like a recitation," she said. "I always say to him, 'Don't even trust yourself. Don't take anything from anybody. Don't eat from anyone.' I really feel it from my heart, but still I put my trust in him that he would not have done that. It must be something that went wrong."
During a recent visit to his parents' home on Father's Day, Mrs Powell said Asafa assured her: "Mama, I wouldn't do anything like that."
"I don't believe that he went and buy it and take it like that," Powell's father, William, told the newspaper. "Somebody must be responsible for giving him that, and the person that give him must know that it is a banned substance. … That person mash up Asafa future."
The Guardian detailed the benefits of the drug that Powell and Simpson tested positive for. Both sprinters denied knowingly taking oxilofrine through statements Sunday.
Oxilofrine "is a stimulant used to boost the body's ability to burn fat," the British newspaper wrote.
The substance helps athletes boost their power-to-weight ratio with more lean muscle and less fat, and so increase their speed.  …

The stimulant in question may also increase the rate at which the heart reaches its maximum performance during exercise, meaning a greater supply of oxygen can get to the muscles earlier.
The newspaper reported cyclists, runners and football and rugby players have been banned for using oxilofrine in the last three years.
Oxilofrine is an agent that stimulates part of the nervous system and was previously used to treat low blood pressure. More recently, it has started to appear in combination with caffeine in dietary supplements marketed as weight loss products.

However, the superiority of using oxilofrine over an exercise warm-up to achieve this appears unconvincing.