The ESPY awards provided a few Olympian storylines, especially among swimmers, on Wednesday night.
Actor and host Jon Hamm praised the U.S. Olympic team in his opening monologue. Well, not all of it was praise.
"Congratulations to the U.S. Olympic team for their absolutely dominant performance at the London Games," Hamm said. "Women's gymnastics team gold. Women's soccer team gold. Men's basketball team gold.
"The U.S. team was absolutely the story of the Games, winning 104 total medals. Other countries did well, too. Russia took home 82 medals. They only won 77, but they took home 82.
"Michael Phelps won four more gold medals, bringing his total to 16 and setting the all-time record for most gold jewelry owned by a non-Italian.
(UPDATE: Phelps, of course, has 18 gold medals, not 16, Mr. Hamm.)
"It was an amazing Olympics. Usain Bolt proved that he is the fastest man on land. Michael Phelps proved that he is the fastest man in the water.
"And Ryan Lochte proved that he is not the sharpest knife in the drawer. … He's adorable. Lochte won five medals in London, and only two of them were damaged when he tried to find out if there was chocolate inside."
Watch the full monologue here.
Lochte was not at the Nokia Theater to respond, as he is getting ready for the world championships in Barcelona, but it made Phelps chuckle.
Speaking of Phelps, he was the subject of plenty of chatter, particularly mentioning the woman sitting next to him — Golf Channel's Win McMurry.
Phelps caddied for McMurry at the PGA Tour Wives Classic at The Players Championship in May. Another public appearance together has led to speculation that they are more than friends, though nothing official has been said yet. Stay tuned.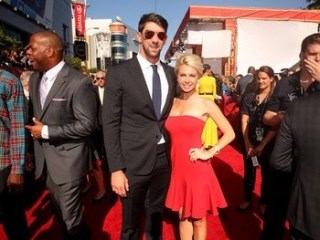 Phelps won two ESPYs — best record-breaking performance (breaking the record for most all-time Olympic medals with 22) and best male Olympic athlete. In an acceptance speech, he thanked retired Baltimore Ravens linebacker Ray Lewis for helping him end his career the way he wanted to.
Phelps beat out Olympic decathlon champion Ashton Eaton and Lochte for the best male Olympic athlete award. For the record-breaking performance, he won over Drew Brees (most consecutive games with a touchdown pass), Calvin Johnson (most receiving yards in one season) and Abby Wambach (most international goals in a career).
Watch Phelps' acceptance speech here.
Phelps was also nominated for best male athlete, won by LeBron James.
Best female Olympic athlete went to another swimmer, Missy Franklin, who won five medals (four gold) in London. Franklin, like Lochte, is prepping for worlds in Barcelona.
Franklin beat Fierce Five members Gabby Douglas and Aly Raisman. Franklin and Douglas were also nominated for best female athlete, won by Serena Williams.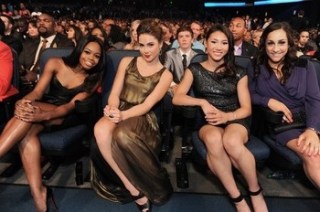 Raisman was the only U.S. Olympic women's gymnastics team member who did not attend. She's in Israel for the Maccabiah Games.
The Fierce Five were nominated for best team, won by the Miami Heat.
Best international athlete went to triple Olympic champion Bolt over tennis player Novak Djokovic, boxer Juan Manuel Marquez and soccer players Lionel Messi and Cristiano Ronaldo.
Another swimmer, 12-time Paralympic champion Jessica Long, won best female athlete with a disability. Long won eight medals in London, including five gold.
Paralympic discus champion Jeremy Campbell won best male athlete with a disability.