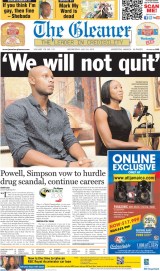 Jamaican Olympic sprint medalists Asafa Powell and Sherone Simpson were shocked when they were told they had failed drug tests and have no plans to retire, they said in a group interview in Jamaica on Tuesday night.
Reuters and the Jamaica Gleaner (Wednesday's front page pictured) were on hand at a law office in Kingston.
"I have never thought about it (retiring)," Powell said, according to the Gleaner. "I was just shocked by the news. I have been thinking a lot but never once thought about giving up."
Two attorneys, their track club president and a publicist were also present. Simpson broke down in tears in the interview, according to the Gleaner.
Powell, the former world-record holder in the 100 meters, and Simpson, the 2008 Olympic silver medalist in the 100, said in statements on July 14 that they tested positive for the banned stimulant oxilofrine at the Jamaican national championships in June.
They are potentially facing many months, perhaps years in suspensions, pending "B" sample tests results.
Powell and Simpson declined to answer questions about their Canadian trainer Chris Xuereb, whom has been blamed by their agent and their track club.
An email from Xuereb's account last week said he did not provide banned substances to the sprinters, who he said are "looking for a scapegoat."
Powell, 30, said in Tuesday's interview he will miss the world championships in August. Powell failed to qualify individually by finishing seventh at nationals, but he could have conceivably been picked for the 4×100 relay.
Simpson, 28, placed second at Jamaican nationals in the 100, qualifying for the world championships, but her worlds status was not addressed in the Reuters or Jamaica Gleaner stories. It would be surprising to see her compete in Moscow next month.
Simpson said she was "shocked" when she received a phone call in Madrid at 1:30 a.m. informing her of the test findings. Powell said he first heard the news at a hotel room in Italy.
"At first I thought it was joke, you know, I thought I was being pranked!" Powell said. "Because that was the first something like that has ever happened; I was confused after and just in disbelief."
Yohan Blake GQ interview: The Notebook, Michael Jackson, socks