The world swimming championships began in the pool Sunday morning with preliminary heats in the following events:
Women's 100-meter butterfly
Men's 400-meter freestyle
Women's 200-meter individual medley
Men's 50-meter butterfly
Women's 400-meter freestyle
Men's 100-meter breaststroke
Women's 4×100-meter freestyle relay
Men's 4×100-meter freestyle relay
The first night of semifinals and finals begins at noon Eastern time. NBC will have coverage from 2:30-4:30. Here are the events:
Women's 100 butterfly semifinals
Men's 400 freestyle final
Women's 200 individual medley semifinals
Men's 50 butterfly semifinals
Women's 400 freestyle final
Men's 100 breaststroke semifinals
Women's 4×100 final
Men's 4×100 final
Led by Katie Ledecky in the 400 free, the U.S. is the top seed in three of the four finals following Sunday morning's prelims. The Americans also topped the field in both sets of 4×100 free relay heats. The only final Sunday evening that won't feature an American top seed is the men's 400 free, where Chinese Olympic champion Sun Yang is a heavy favorite. We should get our first looks at Ryan Lochte and Missy Franklin in the 4×100 free relays finals as well.
NBC, Universal Sports broadcast schedule | Results, start lists | Men's preview | Women's preview
Here's a rundown of the results from Sunday morning's preliminary session:
Women's 100 butterfly
Advancing to semifinals
1. Dana Vollmer (USA) 57.22
2. Sarah Sjostrom (SWE) 57.28
3. Katerine Savard (CAN) 57.31
4. Alicia Coutts (AUS) 57.56
5. Jeanette Ottesen Gray (DEN) 57.79
6. Noemie Ip-Ting Thomas (CAN) 58.11
7. Ilaria Bianchi (ITA) 58.22
8. Brittany Elmslie (AUS) 58.27
9. Jemma Lowe (GBR) 58.38
10. Claire Donahue (USA) 58.58
11. Ingvild Nicoline Snildal (NOR) 58.83
12. Lu Ying (CHN) 58.93
13. Tao Li (CHN) 58.94
14. Evelin Verraszto (HUN) 58.95
15. Daynara De Paula (BRA) 59.16
16. Natsumi Hoshi (JPN) 59.18
Summary
Vollmer, the Olympic and world champion and world-record holder at 55.28, posted the second fastest time in the world this year to the lead the qualifiers into Sunday evening's semifinals. The eight-woman final is Monday evening. The world's fastest time of 57.18 still belongs to Coutts, the fourth fastest qualifier. Coutts is the reigning world silver medalist and Olympic bronze medalist. The reigning Olympic silver medalist and world bronze medalist, Lu of China, qualified 12th out of 16 swimmers into the semifinals. The medals should come down to those three, plus Sjostrom, Savard and Ottesen.
Men's 400 freestyle
Advancing to final
1. Sun Yang (CHN) 3:44.67
2. Ryan Cochrane (CAN) 3:45.74
3. Jordan Harrison (AUS) 3:46.85
4. Kosuke Hagino (JPN) 3:46.92
5. Devon Myles Brown (RSA) 3:47.17
6. Hao Yun (CHN) 3:47.49
7. Connor Jaeger (USA) 3:47.83
8. James Guy (GBR) 3:47.86
Summary
Sun is the only one of the medalists from 2011 worlds or the 2012 Olympics swimming in Barcelona. Reigning world champion Park Tae-Hwan of South Korea is taking the year off, world-record holder Paul Biedermann of Germany is out after dealing with illness this year and London bronze medalist Peter Vanderkaay is retired. That leaves Sun, the Olympic champion, who is attempting a 400-800-1500 triple at these championships. His time was well off his world lead of 3:42.96, but he's a very clear favorite after going one second faster than anyone else in Sunday's heats. The silver and bronze should be shared among Cochrane, the London silver medalist in the 1,500, Harrison, Hagino and the U.S. champion Jaeger. Of note, the second fastest swimmer in the world this year, Australia's David McKeon, and U.S. runner-up Matt McLean failed to make the final.
Medal picks
Gold: Sun (CHN)
Silver: Cochrane (CAN)
Bronze: Harrison (AUS)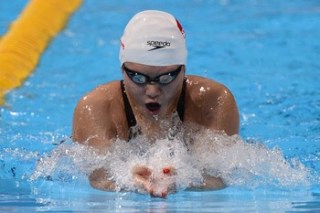 Women's 200 individual medley
Advancing to semifinals
1. Katinka Hosszu (HUN) 2:08.45
2. Ye Shiwen (CHN) 2:10.20
3. Emily Seebohm (AUS) 2:11.12
4. Elizbeth Beisel (USA) 2:11.16
5. Caitlin Leverenz (USA) 2:11.54
6. Siobhan-Marie O'Connor (GBR) 2:11.64
7. Alicia Coutts (AUS) 2:11.88
8. Mireia Belmonte Garcia (ESP) 2:12.11
9. Kanako Watanabe (JPN) 2:12.28
10. Zsuzsanna Jakabos (HUN) 2:12.31
10. Sophie Allen (GBR) 2:12.31
12. Miho Teramura (JPN) 2:12.91
13. Wenqing Zhang (CHN) 2:13.40
14. Viktorlia Andreeva (RUS) 2:13.61
15. Erika Seltenreich-Hodgson (CAN) 2:13.84
16. Beatriz Gomez Cortes (ESP) 2:13.98
Summary
You may remember Ye, 17, from the 2012 Olympics, where she swept the individual medleys and swam a faster final 50 in her 400 IM than Ryan Lochte did in his. Well, Ye was beaten in her preliminary heat by the Hungarian Hosszu, the budding all-around swimmer who set a world-leading time. All the major players are safely into Sunday evening's semifinals (final is Monday evening), including Olympic and world silver medalist Coutts and both Americans.
Men's 50 butterfly
Advancing to semifinals
1. Roland Schoeman (RSA) 23.02
2. Rafael Munoz Perez (ESP) 23.17
3. Florent Manaudou (FRA) 23.18
4. Andril Govorov (UKR) 23.19
5. Piero Codia (ITA) 23.21
6. Matt Grevers (USA) 23.29
7. Eugene Godsoe (USA) 23.31
8. Cesar Cielo (BRA) 23.32
9. Matt Targett (AUS) 23.36
10. Wu Peng (CHN) 23.43
11. Nicholas Santos (BRA) 23.45
11. Yauhen Tsurkin (BLR) 23.45
13. Frederick Bousquet (FRA) 23.49
14. Steffen Deibler (GER) 23.50
14. Benjamin Proud (GBR) 23.50
16. Mario Todorovic (CRO) 23.53
Summary
This is event is not part of the Olympic program. Schoeman, 33, the triple 2004 Olympic medalist, posted the world's second fastest time this year to lead the qualifiers into Sunday evening's semifinals. The world lead (23.00) is still held by Bousquet. This event is wide open going into the semis with the entire field within a half-second of each other — not surprising for a 50-meter race. Cielo is the defending world champion. Grevers and Godsoe aren't among the 10 fastest in the world this year, but don't count them out of making the final.
Women's 400 freestyle
Advancing to final
1. Katie Ledecky (USA) 4:03.05
2. Melanie Costa Schmid (ESP) 4:04.20
3. Jazmin Carlin (GBR) 4:04.85
4. Lauren Boyle (NZL) 4:04.96
5. Kylie Palmer (AUS) 4:05.01
6. Camille Muffat (FRA) 4:05.53
7. Boglarka Kapas (HUN) 4:05.61
8. Andreina Pinto (VEN) 4:06.02
Summary
Ledecky, 16, the Olympic champion in the 800, sent a message by blistering the field by one second in Sunday morning's heats. She could be on her way to the first of three individual gold medals with the 800 and 1,500 still to come. The only woman who could stop her is Muffat, the Olympic champion, who still holds the world lead this year (4:02.64). The other 2011 world and 2012 Olympic medalists — Federica Pellegrini, Rebecca Adlington and Allison Schmitt — are not swimming the event in Barcelona. The only other woman to go sub-4:04 this year, Australian Bronte Barratt, did not advance out of the prelims. So it could be a two-woman race for gold between Ledecky and Muffat — if Muffat swims much faster than she did Sunday morning.
Medal picks
Gold: Ledecky (USA)
Silver: Muffat (FRA)
Bronze: Costa Schmid (ESP)
Men's 100 breaststroke
Advancing to semifinals
1. Christian Sprenger (AUS) 59.53
2. Kirill Strelnikov (RUS) 59.80
3. Fabio Scozzoli (ITA) 59.88
3. Kosuke Kitajima (JPN) 59.88
5. Glenn Snyders (NZL) 59.92
6. Kevin Cordes (USA) 1:00.01
7. Cameron van der Burgh (RSA) 1:00.02
8. Felipe Lima (BRA) 1:00.06
9. Ross Murdoch (GBR) 1:00.08
9. Hendrik Feldwehr (GER) 1:00.08
11. Nicolas Fink (USA) 1:00.18
12. Michael Jamieson (GBR) 1:00.20
13. Joao Junior Gomes (BRA) 1:00.24
14. Mattia Pesce (ITA) 1:00.32
15. Damir Dugonjic (SLO) 1:00.36
16. Giedrius Titenis (LTU) 1:00.44
Summary
The Aussie Sprenger, silver medalist to van der Burgh at the Olympics, now owns the two fastest times in the world this year and is the only man to go under 59.75. World No. 2 and reigning world silver medalist Scozzoli as well as van der Burgh must also be considered major medal threats, should they make Monday's final. Kitajima, 30, the greatest breaststroker of all time, showed a strong swim after missing the medals at the Olympics. Also watch Cordes, the rising University of Arizona junior, who is in good position to make the eight-man final.
Women's 4×100 freestyle relay
Advancing to final
1. USA 3:36.22
2. Australia 3:36.46
3. Canada 3:38.03
4. Sweden 3:38.07
5. Russia 3:38.32
6. Netherlands 3:38.41
7. Germany 3:39.19
8. Japan 3:39.24
Summary
The U.S. and Australia were clear ahead of the eight qualifiers into Sunday evening's final despite sitting their best freestylers (Missy Franklin and Shannon Vreeland for the U.S., Cate Campbell for Australia). Expect them to be added to the final quartets. Also expect the Netherlands to make a big move up in the final, given it sat Olympic 100-meter champion Ranomi Kromowidjojo out of the prelims. The medals should be split among those three nations, as they were at the Olympics, where it went Australia-Netherlands-U.S. This one could be close this evening coming down to the anchor leg.
Medal picks
Gold: U.S.
Silver: Australia
Bronze: Netherlands
Men's 4×100 freestyle relay
Advancing to final
1. USA 3:11.69
2. Russia 3:12.43
3. Australia 3:13.04
4. France 3:14.01
5. Italy 3:14.13
6. Brazil 3:14.41
7. Germany 3:14.70
8. Japan 3:15.46
Summary
The most exciting event in swimming should provide more fireworks come Sunday evening. The top four nations are in the medal picture, and I could see any one of three of them winning gold. The Americans used Jimmy Feigen, Anthony Ervin, Ricky Berens and Conor Dwyer to post the top prelim time. Olympic champion Nathan Adrian will surely be added for the final, and you've got to believe Ryan Lochte will be, too. Russia came into Barcelona with four of the top eight 100 freestylers in the world this year and only used two of them in the prelims. The reigning world champion Aussies will add world leader James Magnussen for the final. Olympic champion France might not have enough speed to beat all of the U.S., Russia and Australia, but it could sneak in for a medal.
Medal picks
Gold: Russia
Silver: U.S.
Bronze: Australia