The opening night of swimming worlds saw Americans medal in all four finals, including the debuts of Ryan Lochte and Missy Franklin in the 4×100-meter freestyle relays.
Katie Ledecky won what could be the first of four golds for the high school student in the 400 free. Connor Jaeger won what could be considered a surprising bronze in the men's 400 free behind Chinese super favorite Sun Yang.
The relays capped the night with excitement. Megan Romano brought the U.S. past Australia to win the women's 4×100 free, giving Missy Franklin a gold in the first of her eight events. The U.S. was down more than one second after Franklin's leadoff leg, thanks to an absolute scorching 100 from Aussie Cate Campbell.
France came from fourth going into the final leg to win the men's 4×100 free over the U.S. in the same one-two-three-four result from the Olympics. Lochte was given a slim lead going into his second leg but lost that lead to Australia, though the U.S.' third leg, Anthony Ervin, took it back before France charged ahead on the anchor.
NBC, Universal Sports broadcast schedule | Live results | Men's preview | Women's preview
Follow the action here with live commentary:
Women's 100 butterfly semifinals
Advances to final
1. Sarah Sjostrom (SWE) 57.10
2. Jeanette Ottesen Gray (DEN) 57.19
3. Alicia Coutts (AUS) 57.49
4. Dana Vollmer (USA) 57.84
5. Noemie Ip-Ting Thomas (CAN) 57.99
6. Katerine Savard (CAN) 58.00
7. Ilaria Bianchi (ITA) 58.29
8. Claire Donahue (USA) 58.44
Summary
Despite an average semifinal swim, Vollmer, the reigning world and Olympic champion and world-record holder at 55.28, can still be considered a favorite going into Monday's final. But it's certainly up for debate. The semifinal results opened the door for Sjostrom, Ottesen Gray and Coutts. Coutts, the reigning Olympic bronze medalist, owned the fastest time in the world this year before Sjostrom took it in the semis. The reigning Olympic silver medalist and world bronze medalist, China's Lu Ying, failed to make the final.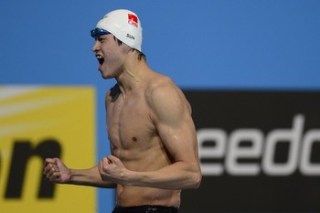 Men's 400 freestyle final
Results
Gold: Sun Yang (CHN) 3:41.59
Silver: Kosuke Hagino (JPN) 3:44.82
Bronze: Connor Jaeger (USA) 3:44.85
4: Ryan Cochrane (CAN) 3:45.02
5. James Guy (GBR) 3:47.96
6. Devon Myles Brown (RSA) 3:48.40
6. Jordan Harrison (AUS) 3:48.40
8. Hao Yun (CHN) 3:48.88
Summary
Sun, the Olympic champion, was an overwhelming favorite coming into this final. We saw why. He took the lead between 50 and 100 meters and never relinquished it, winning in the world's fastest time this year. Sun led by more than one second at the halfway point (when the American Jaeger moved into second). Sun could win triple gold in Barcelona with the 800 and 1,500 free still to come. Jaeger's bronze is the first U.S. medal in the event at worlds since 1986. He was passed in the final 50 meters by Hagino.
Women's 200 individual medley semifinals
Advances to final
1. Katinka Hosszu (HUN) 2:08.59
2. Ye Shiwen (CHN) 2:09.12
3. Alicia Coutts (AUS) 2:10.06
4. Sophie Allen (GBR) 2:10.23
5. Mireia Belmonte Garcia (ESP) 2:10.66
6. Emily Seebohm (AUS) 2:10.70
7. Caitlin Leverenz (USA) 2:11.05
8. Zsuzsanna Jakabos (HUN) 2:11.21
Summary
Hosszu had the fastest time for the second straight round over the Olympic champion Ye. Ye, 17, won both individual medleys at the Olympics, where she swam the final 50 of her 400 IM faster than Lochte did in his 400 IM. It appears the battle for gold will come down to the Hungarian and the Chinese. The busy Coutts swam in the 100 fly semifinals a half-hour ago, and she'll be part of the Australian 4×100 free relay later in the night. Leverenz was the bronze medalist at the Olympics. Fellow American Elizabeth Beisel failed to make the final.
Men's 50 butterfly semifinals
Advances to final
1. Nicholas Santos (BRA) 22.81
2. Cesar Cielo (BRA) 22.86
3. Yauhen Tsurkin (BLR) 22.90
4. Frederick Bousquet (FRA) 22.93
5. Andril Govorov (UKR) 22.97
6. Steffen Diebler (GER) 23.02
7. Florent Manaudou (FRA) 23.15
8. Eugene Godsoe (USA) 23.16
Summary
The 50 butterfly is an event not contested at the Olympics. Defending world champion Cielo was merely eighth in prelims, but he turned on the jets in the semis with the fastest time in the world this year … until his countryman went even faster in the second semifinal. Godsoe snuck into the final, while fellow American Matt Grevers, the Olympic champion in the 100 backstroke, was 12th out of 16 and missed the final, as did the fastest man from prelims, Roland Schoeman of South Africa. The Brazilians figure to fight for gold in the final, but it could be wide open.
Women's 400 freestyle final
Results
Gold: Katie Ledecky (USA) 3:59.82
Silver: Melanie Costa Schmid (ESP) 4:02.47
Bronze: Lauren Boyle (NZL) 4:03.89
4. Jazmin Carlin (GBR) 4:04.03
5. Boglarka Kapas (HUN) 4:05.90
6. Andreina Pinto (VEN) 4:07.14
7. Camille Muffat (FRA) 4:07.67
8. Kylie Palmer (AUS) 4:08.13
Summary
Ledecky, a rising Maryland high school junior, easily won the first of what could be four gold medals at her first world championships. She's got the 800 free (where she won Olympic gold), the 1,500 free and the 4×200 free relay left.
"I'm really in shock of the time," Ledecky told Eurosport. "It shows you what happens when you get in a race with the best. … I didn't know how fast I was going. … I couldn't believe it when I looked up."
There was chatter coming in that she could break Italian Federica Pellegrini's world record of 3:59.15 set during the fast suit era in 2009. She went out under the world-record pace through 300 meters before fading off of it. She settled for the second fastest time ever, only the second woman to break four minutes. The Olympic champion Muffat posted an average time in prelims this morning and was never a factor in the final.
Men's 100 breaststroke semifinals
Advances to final
1. Christian Sprenger (AUS) 59.23
2. Kevin Cordes (USA) 59.78
2. Cameron van der Burgh (RSA) 59.78
4. Damir Dugonjic (SLO) 59.80
5. Felipe Lima (BRA) 59.84
5. Nicolas Fink (USA) 59.84
7. Fabio Scozzoli (ITA) 59.90
8. Kosuke Kitajima (JPN) 59.92
Summary
The Olympic silver medalist Sprenger now owns the three fastest times in the world this year. He's a big favorite going into Monday's final. Cordes, an NCAA champion from the University of Arizona, set a new personal best to win the first semifinal. He's now a medal favorite along with the Olympic champion van der Burgh.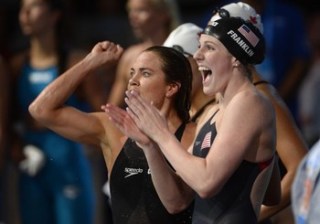 Women's 4×100 freestyle relay
Results
Gold: USA 3:32.31
Silver: Australia 3:32.43
Bronze: Netherlands 3:35.77
4. Sweden 3:36.56
5. Canada 3:37.09
6. Russia 3:38.45
7. Japan 3:39.45
8. Germany 3:39.57
Summary
Australian Cate Campbell, the fastest woman in the world this year, posted a 52.33, the second fastest leadoff leg of all time, according to Eurosport. She was more than one second faster than Missy Franklin on the opening leg. Natalie Coughlin, the most decorated women's world medalist of all time, closed the gap on the second leg, but the U.S. still trailed by .72 seconds after Shannon Vreeland's third leg. Anchor Megan Romano brought the U.S. within a quarter-second after 350 and out-touched Alicia Coutts to win by .12. Franklin is now one for one in golds after the first of her potential eight events.
"I let the team down," an emotional Coutts told Eurosport before being picked up immediately by a teammate's comments in the TV interview.
Men's 4×100 freestyle relay
Results
Gold: France 3:11.18
Silver: USA 3:11.42
Bronze: Russia 3:11.44
4. Australia 3:11.58
5. Italy 3:12.62
6. Germany 3:13.77
7. Brazil 3:14.45
8. Japan 3:14.75
Summary
France stole the gold, just as it did at the 2012 Olympics. The opening leg provided the showdown between Olympic gold and silver medalists in the individual 100 free — American Nathan Adrian and Australian James Magnussen. Adrian opened with the lead, a 47.95, just bettering Magnussen's 48 flat. Magnussen had gone out in 47.49 at the 2011 worlds. Australia took a .31 lead on the second leg, passing Ryan Lochte, whose split was an average 47.80. Still, Lochte is one for one in medals after the first of his potential seven swims.
Anthony Ervin took a two tenths lead for the U.S. with a 47.44 on the third leg, as Russia moved into second. But the star of the relay was France's third leg and anchor, Fabien Gilot and Jeremy Stravius, who posted 46.90 and 47.59. France jumped from fourth to first on the final two legs. U.S. anchor Jimmy Feigen swam his 100 in 48.23, the slowest non-leadoff leg from any swimmer on the top five countries.
You have to wonder what the U.S. would have done if Ricky Berens was kept on for the final rather than Feigen. Berens went 47.56 on anchor in the prelims, where Feigen went 48.39 on leadoff. In Feigen's defense, he earned his spot on the relay final by finishing second in the individual 100 at trials, and the leadoff leg always has slower splits than the other three.