Ryan Lochte and Missy Franklin safely advanced in their first individual swims of the world championships in Barcelona Monday morning.
Lochte qualified joint ninth, taking it easy in the final 50 meters, into Monday evening's 200-meter freestyle semifinals. Franklin was the top qualifier into the 100 backstroke semis. They're both favored to reach the eight-swimmer finals Tuesday night.
Lochte, who won silver as part of the 4×100 free relay Sunday, will be looking to defend his world title in the 200 free, which used to be one of the deepest events in men's swimming during the Michael Phelps era. There isn't much competition left now outside of French Olympic champion Yannick Agnel. Lochte is in seven overall events in Barcelona, the busiest program at a major international meet in his career.
Franklin is in the second of her planned eight events after helping the U.S. women to gold in the 4×100 free relay Sunday. She's the Olympic champion in the 100 back but didn't swim it at 2011 worlds.
In other notable prelim swims Monday, Lithuanian Olympic champion Ruta Meilutyte nearly broke Jessica Hardy's world record in the 100 breaststroke. American Katie Ledecky, who won the 400 free Sunday, came back to qualify second into Tuesday's final of the 1,500 free, a non-Olympic event. Ledecky could win four golds at her first worlds.
In addition to Lochte and Franklin in semifinals, four finals are on the docket Monday (noon ET, Universal Sports) — men's 100 breast (with U.S. and NCAA champion Kevin Cordes), women's 100 butterfly (with Olympic champion Dana Vollmer), men's 50 butterfly and the women's 200 individual medley (with Olympic champion Ye Shiwen).
NBC, Universal Sports broadcast schedule | Live results | Men's preview | Women's preview
Here's the order of events in Monday's evening session:
Men's 100 Breaststroke Final
Field
1. Christian Sprenger (AUS) 59.23
2. Kevin Cordes (USA) 59.78
2. Cameron van der Burgh (RSA) 59.78
4. Damir Dugonjic (SLO) 59.80
5. Felipe Lima (BRA) 59.84
5. Nicolas Fink (USA) 59.84
7. Fabio Scozzoli (ITA) 59.90
8. Kosuke Kitajima (JPN) 59.92

Preview
The Olympic silver medalist Sprenger is a heavy favorite. He's been three-quarters of a second faster than everyone this year, posting a 59.05 at the Australian championships in April and the three fastest times in the world overall. The silver and bronze are up for grabs with Cordes, van der Burgh and Scozzoli the favorites. The U.S. and NCAA champion Cordes, 19, swam a lifetime best in the semifinals. Van der Burgh is the reigning Olympic champion. Scozzoli is ranked No. 2 this year and took silver at 2011 worlds.
Medal Picks
Gold: Sprenger (AUS)
Silver: van der Burgh (RSA)
Bronze: Cordes (USA)
Women's 100 Butterfly Final
Field
1. Sarah Sjostrom (SWE) 57.10
2. Jeanette Ottesen Gray (DEN) 57.19
3. Alicia Coutts (AUS) 57.49
4. Dana Vollmer (USA) 57.84
5. Noemie Ip-Ting Thomas (CAN) 57.99
6. Katerine Savard (CAN) 58.00
7. Ilaria Bianchi (ITA) 58.29
8. Claire Donahue (USA) 58.44
Preview
The medals will likely be shared among the top four qualifiers. Vollmer's status as favorite took a hit in the semifinals Sunday night. After, she said she had been dealing with an illness. She's the defending world champion, reigning Olympic champion and the world-record holder. Sjostrom, who won the 2009 world title at age 15, posted the fastest time in the world this year in the semis. Ottesen Gray, the 2011 world champ in the 100 free, has never finished better than sixth in this event at a major international meet. Coutts swam three events Sunday night and burst into tears after the 4×100 free relay, where she was passed on anchor by American Megan Romano. Coutts is the reigning Olympic bronze medalist and world silver medalist.
Medal Picks
Gold: Vollmer (USA)
Silver: Sjostrom (SWE)
Bronze: Coutts (AUS)
Men's 100 Backstroke Semifinals
Field
1. Ashley Delaney (AUS) 53.60
2. David Plummer (USA) 53.62
3. Jiayu Xu (CHN) 53.63
4. Ryosuke Irie (JPN) 53.66
5. Jeremy Stravius (FRA) 53.85
6. Matt Grevers (USA) 53.92
7. Kosuke Hagino (JPN) 53.94
8. Laszlo Cseh (HUN) 54.06
9. Bastiaan Lijesen (NED) 54.07
10. Radoslaw Kawecki (POL) 54.20
10. Camille Lacourt (FRA) 54.20
12. Christopher Walkerhebborn (GBR) 54.23
13. Feiyi Cheng (CHN) 54.30
14. Gareth Kean (NZL) 54.37
15. Darren Murray (RSA) 54.64
16. Charles Francis (CAN) 54.72
Preview
Delaney is the fastest qualifier, but he's still just the ninth fastest man this year. Plummer, who beat Olympic champion Grevers at nationals in June, is looking to better his fifth-place finish at 2011 worlds. He's tied for second fastest in the world this year with the Japanese teen sensation Hagino, silver medalist in the 400 free Sunday. The No. 1 man in 2013 is Stravius, who anchored the French 4×100 free relay team to gold Sunday. Stravius and Lacourt shared the world title in 2011. All the medal contenders advanced out of prelims.
Women's 100 Breaststroke Semifinals
Field
1. Ruta Meilutyte (LTU) 1:04.52
2. Jessica Hardy (USA) 1:05.18
3. Yuliya Efimoiva (RUS) 1:05.24
4. Rikke Moller Pedersen (DEN) 1:06.30
5. Viktoriya Solnceva (UKR) 1:06.79
6. Breeja Larson (USA) 1:06.83
7. Marina Garcia Urzainqui (ESP) 1:07.18
8. Jennie Johansson (SWE) 1:07.21
9. Sally Foster (AUS) 1:07.59
10. Alia Atkinson (JAM) 1:07.76
11. Satomi Suzuki (JPN) 1:07.79
12. Fiona Doyle (IRL) 1:07.88
13. Petra Chocova (CZE) 1:08.18
14. Moniek Nijhuis (NED) 1:08.29
15. Samantha Marshall (AUS) 1:08.33
16. Kim Janssens (BEL) 1:08.36
Preview
Meilutyte, the surprise Olympic champion at age 15, came within .07 of Hardy's world record in Monday morning's prelims. If she doesn't break the world record in the semifinals, she probably will in the final. Two-time reigning world champion Rebecca Soni is not swimming this year, leaving Hardy and Larson to carry the U.S. hopes. They're both in the top five in the world this year, should make the final and will fight with Efimova and Pedersen for silver and bronze.

Men's 50 Butterfly Final
1. Nicholas Santos (BRA) 22.81
2. Cesar Cielo (BRA) 22.86
3. Yauhen Tsurkin (BLR) 22.90
4. Frederick Bousquet (FRA) 22.93
5. Andril Govorov (UKR) 22.97
6. Steffen Diebler (GER) 23.02
7. Florent Manaudou (FRA) 23.15
8. Eugene Godsoe (USA) 23.16

Preview
Only one U.S. man (retired Ian Crocker) has medaled in this non-Olympic event since it was introduced at worlds in 2001. Godsoe will have a tough time making the podium here, but he's got a shot given how bunched the field is. The Brazilians are one-two favorites but the order is debatable. Cielo, the world-record holder in the 50 and 100 free, is the defending world champion.
Medal Picks
Gold: Cielo (BRA)
Silver: Santos (BRA)
Bronze: Bousquet (FRA)
Women's 100 Backstroke Semifinals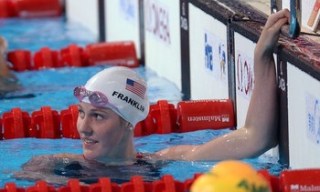 Field
1. Missy Franklin (USA) 59.13
2. Katinka Hosszu (HUN) 59.40 — WILL REPORTEDLY SCRATCH
3. Elizabeth Pelton (USA) 59.94
4. Yuanhui Fu (CHN) 1:00.01
5. Emily Seebohm (AUS) 1:00.02
6. Simona Baumrtova (CZE) 1:00.05
7. Aya Terakawa (JPN) 1:00.09
8. Sinead Russell (CAN) 1:00.17
9. Belinda Hocking (AUS) 1:00.39
10. Daryna Zevina (UKR) 1:00.43
11. Cloe Credeville (FRA) 1:00.70
12. Duane Da Roche Marce (ESP) 1:00.80
13. Yanxin Zhou (CHN) 1:00.99
14. Mercedes Peris Minguet (ESP) 1:01.19
15. Lauren Quigley (GBR) 1:01.23
16. Karin Prinsloo (RSA) 1:01.25
Preview
Only one woman was within a half-second of Franklin in Monday morning's prelims, and only one woman has been within a half-second of her this year. Expect her to be the top qualifier into Tuesday's final. Franklin, 18, swept the backstrokes at the Olympics but didn't swim the 100 at the last world championships. The Hungarian Hosszu will reportedly scratch out of the semifinals, making Franklin an even bigger favorite. Pelton didn't make the Olympic team in this event and was eliminated in the semifinals at 2011 worlds. Seebohm and Terakawa, the Olympic silver and bronze medalists, are the second and third fastest women in the world this year. The 2011 world champion, Zhao Jing of China, was not entered in the event.
Men's 200 Freestyle Semifinals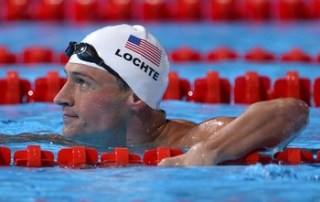 Field
1. Robbie Renwick (GBR) 1:46.88
2. Nicolas Oliveira (BRA) 1:46.99
3. Sebastiaan Verschuren (NED) 1:47.24
4. Kosuke Hagino (JPN) 1:47.33
5. Cameron McEvoy (AUS) 1:47.34
6. Yannick Agnel (FRA) 1:47.40
7. Danila Izotov (RUS) 1:47.76
8. Pieter Timmers (BEL) 1:47.89
9. Ryan Lochte (USA) 1:47.90
9. Conor Dwyer (USA) 1:47.90
11. Matthew Stanley (NZL) 1:48.01
12. Thomas Fraser-Holmes (AUS) 1:48.05
13. Velimir Stjepanovic (SRB) 1:48.12
14. Yunqi Li (CHN) 1:48.18
15. Shun Wang (CHN) 1:48.19
16. Clemens Rapp (GER) 1:48.37
Preview
The medal contenders played it close to the vest in the prelims Monday morning. Throw away the seeds. The top qualifiers for Tuesday's final should be the Olympic champion Agnel, the world champion Lochte and the 2013 world leader Izotov. Keep an eye on Hagino, too, who's entered in six individual events. Two of the top four fastest men this year — Sun Yang and Jeremy Stravius — were not entered in this event. World record holder Paul Biedermann and Olympic silver medalist Park Tae-Hwan are not in Barcelona, and, of course, two-time world champion Michael Phelps is retired.
Women's 200 Individual Medley Final
Field
1. Katinka Hosszu (HUN) 2:08.59
2. Ye Shiwen (CHN) 2:09.12
3. Alicia Coutts (AUS) 2:10.06
4. Sophie Allen (GBR) 2:10.23
5. Mireia Belmonte Garcia (ESP) 2:10.66
6. Emily Seebohm (AUS) 2:10.70 — WILL REPORTEDLY SCRATCH
7. Caitlin Leverenz (USA) 2:11.05
8. Zsuzsanna Jakabos (HUN) 2:11.21
Preview
It appears Ye won't have as easy of a final as she did in the Olympics, where she swept the individual medleys. Hosszu bettered the Chinese teenager and defending world champ in both the prelims and the semis and must be considered the favorite now. Everybody else is probably looking for bronze, led by the Olympic and world silver medalist Coutts. The Aussie will be swimming her second final of the night. Leverenz won bronze at the Olympics and, despite her seed, is the fourth fastest woman this year.
Medal Picks
Gold: Hosszu (HUN)
Silver: Ye (CHN)
Bronze: Coutts (AUS)