Shaun White is compiling quite the portfolio of positive reviews.
We've long known about White's exploits on a snowboard and a skateboard. This year, he's gotten the Rolling Stone and Lollapalooza treatment with his new band, Bad Things.
This week, he earned acclaim by Esquire for his fashion at MTV's Video Music Awards on Sunday night.
The magazine called White "the sleeper style hit of the VMAs."
He arrived at Brooklyn's Barclays Center yesterday evening wearing a smartly tailored shawl collar tux in a just-left-of-center charcoal-gray-and-black micro-stripe, along with a perfectly in-proportion bow tie and a pair of monk strap boots.
White was scheduled to compete at the New Zealand Winter Games last week but pulled out with a reported ankle injury.
He has said he plans to go on tour with has band after their debut album is released in October.
Then, White aims to defend his gold medal in the halfpipe in Sochi in February while adding the new Olympic event of slopestyle, where he's not the gold-medal favorite.
Here's the former Flying Tomato in his trim, clean-cut, suit-wearing glory: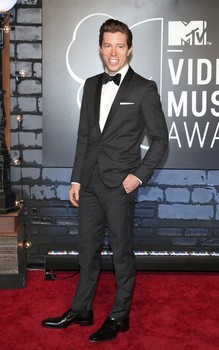 Man vs. Bike in 400-meter hurdles (video)