CALGARY, Alberta — Camera crews, photographers, adoring fans waiting for autographs — no, this wasn't a Hollywood movie premiere.
It was the scene at Calgary International Airport on Sunday morning, as members of the Canadian men's hockey team arrived for an Olympic orientation camp. In this hockey-crazed nation, these are the celebrities.
Rick Nash, the New York Rangers' $7.8 million forward, sat alone unnoticed that morning at his gate at Newark Liberty International Airport, but as soon as he stepped out of baggage claim in Calgary, light bulbs flashed and cameras swarmed.
Welcome to Canada.
The Canadian men's and women's teams descended upon the largest city in Alberta for meetings and training sessions this week, taking one step closer to becoming members of Canada's Olympic team. Nearly four years removed from their gold-medal runs on home soil in Vancouver, both squads are under pressure to stand atop the podium again at the 2014 Winter Games.
The attention surrounding the men was intense. This marked the first and last time the group will meet before arriving in Sochi. In their meetings with the media in Calgary, players reflected on their experiences in Vancouver and looked ahead to upcoming challenges in February.
Head coach Mike Babcock, who also leads the Detroit Red Wings, recalled his speech in the locker room before the overtime period of the gold-medal game against the U.S.
"One of you is going to be a hero … forever," he said.
Several players laughed when asked if they were surprised when Sidney Crosby became that hero with his shot past Ryan Miller after 7 minutes, 40 seconds of overtime at Canada Hockey Place.
"It couldn't have been anyone else," New York Islanders forward John Tavares said.
Chicago Blackhawks captain Jonathan Toews, who enjoyed a relatively short summer break after winning his second Stanley Cup, said there was a certain amount of pleasure snatching gold away from his friend and teammate Patrick Kane.
The Canadians set the bar quite high for an encore performance in February. With such lofty standards, every detail about this team has been scrutinized, from who will be in net to the effect of the wider, international-sized rinks in Sochi.
At times, these concerns can seem trivial with such a talented roster and rich history. However, the men's tournament is filled with such strong teams, like the U.S. or the host, that one small factor could prove to be the difference.
While the Canadian women won't likely have to worry about multiple countries competing with them for gold, their supremacy still appears to be in danger, due to the rise of the U.S. team.
Canada won the last three Olympic gold medals, but its edge over the U.S. narrowed in recent years. And with the Americans' wins at the 2011 and 2013 World Championships, the field may be as level as it's been in this heated rivalry.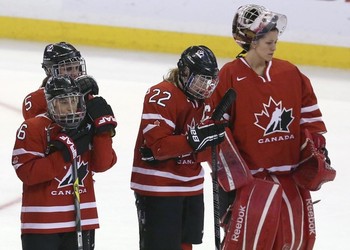 Head coach Dan Church, who is entering his first Olympics at the helm, went so far in Calgary as to call his team "the hunters" in Sochi. His players weren't far behind, admitting that they think about their neighbors to the south during every training session.
The recent loss in Ottawa at worlds in April still stings. Three-time Olympic gold medalist Caroline Ouellette didn't mince words.
"It sucked to lose," she said.
A looming meeting with the U.S. in the Sochi final seems nearly inevitable at this point — the two teams have met in every Olympic final except for one and every World Championship final.
The U.S. boasts a more youthful roster with star forwards Hilary Knight, 24, and Amanda Kessel, 22. Canada counters with the leadership and experience of Hayley Wickenheiser and Jayna Hefford, who have played in every Olympic hockey tournament dating to the women's debut in 1998.
Though the questions surrounding the women may be fewer, the expectations in Sochi will be just as great. After all, this is hockey. And this is Canada.