Ben Johnson lined up at the Seoul Olympic Stadium again Tuesday. This time, he ran nowhere near as fast as in the 1988 Olympics.
On Sept. 24, 1988, the Canadian won the Olympic 100-meter final in a then-world record 9.79 seconds. He was stripped of that gold medal three days later, having tested positive for the banned anabolic steroid stanozolol.
"It feels good to be back," Johnson, promoting an anti-doping campaign, told Agence France-Presse as he stepped out onto the Seoul track.
"This is where history was made. Some might call it bad history, but I don't see it that way."
On Tuesday, at precisely 1:30 pm, Johnson stood at the starting point on Lane 6 — his lane in the final — and strolled down the track he burned up in 1988.

As he walked, two volunteers unrolled in his path a 100-meter long petition with 3,700 signatures the campaign has collected over the past month.

At the finish line, he recreated the famous finger-raised pose he struck at the moment of victory 25 years ago.
"I was nailed on a cross, and 25 years later I'm still being punished," Johnson told AFP. "Rapists and murderers get sent to prison, but even they get out eventually.
"I know what I did was wrong. Rules are rules. But the rules should be the same for all. But politics always plays in sports."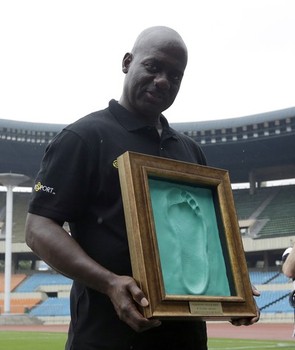 Johnson has been on a worldwide media tour promoting anti-doping in recent weeks.
He said he would have beaten Usain Bolt and then called out his former rival, Carl Lewis, the American who was promoted to gold after Johnson was stripped.
Most recently, Johnson expressed sympathy for the doping-disgraced cyclist Lance Armstrong.
"We are all human beings," Johnson told insidethegames. "We all make mistakes in life. I feel for him.
"Hopefully he will overcome the situation — but it's going to be tough for quite a while. I should know.
"It's a situation you have to live with all the time. I wish him the best."
The 1988 100-meter final has become known as one of the dirtiest races in history. The first three men to cross the finish line — Johnson, Lewis and Britain's Linford Christie — all failed drug tests in 1988, but only Johnson's result was wiped out.
Reuters published a story Monday highlighting the man who crossed fourth, American Calvin Smith, who has said, "I should have been the gold medalist."
Here's AFP video with footage of Johnson on the Seoul track on Tuesday.
How did Lewis spend the 25-year anniversary?
Usain Bolt reconsiders retirement plans