Tiger Woods' determination and focus at major golf tournaments is well known, but Lindsey Vonn tried to lighten the mood at the Presidents Cup on Thursday.
Vonn took the now-famous baby squirrel, Sammy, from U.S. captain Davis Love III's pocket and placed it on her unsuspecting boyfriend's shoulder during the opening day of matches at Muirfield Village.
Woods wasn't having any of the fun and games, however, brushing it off.
The 14-time major champion had plenty of fun playing, though. He and Matt Kuchar logged a dominating 5 & 4 win over Angel Cabrera and Marc Leishman, helping the U.S. to a one-point lead over the International team.
Woods and Kuchar also pulled off a "Fresh Prince of Bel-Air" celebration during their Four-ball round.
Vonn headed to Minnesota on Friday, and she's reportedly set to do an autograph appearance in Mt. Brighton, Mich., on Saturday at 10 a.m. Looks like she'll be headed back to Ohio later Saturday, though.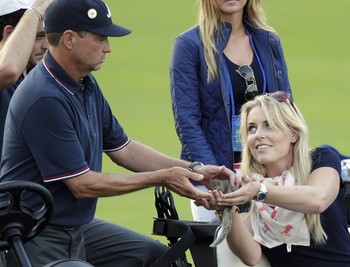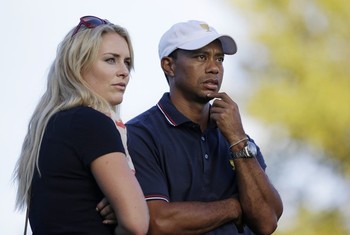 Vonn's potential early return would impact Sochi schedule