Impressed?
McKayla Maroney defended her vault title at the World Championships in Antwerp, Belgium, on Saturday. It was the same event she won silver on at the Olympics, where she entered as the favorite and became famous for her "not impressed" face on the podium.
Maroney, 17, stuck her first vault, a high-flying Amanar, for 15.966 points, though she came a bit off balance in saluting. It was the highest-scoring vault of the competition.
She had a bit of a delay before being able to perform her second vault. No matter, she scored a 15.483 for a 15.724 average to beat teammate Simone Biles for gold by .129 of a point. Biles (15.595) picked up her second medal of the meet, coupling the silver with all-around gold. North Korea's Hong Un Jong earned bronze with a two-vault average of 15.483.
"To be completely honest, it was kind of scary," Maroney said in a video interview published by USA Gymnastics. "There definitely was some pressure on me.
"Looking back isn't going to help you. Moving forward is the thing you have to do."
The Olympic gold medalist ahead of Maroney in London, Romania's Sandra Izbasa, did not compete in Saturday's final.
An American has won women's vault at four straight World Championships (Kayla Williams (2009), Alicia Sacramone (2010)).
Maroney came back from a fractured tibia suffered at a post-Olympics gymnastics tour in September with a goal of defending her championship from 2011.
"A lot of people didn't really believe in me," Maroney said. "They kind of thought it was a fakey comeback because a lot of gymnasts have kind of done that before."
Uzbekistan's Oksana Chusovitina, 38, finished fifth. She competed at the 1991 World Championships for the Soviet Union and owns nine World Championship vault medals, including 2011 silver.
Here was Maroney's facial expression on the podium in London: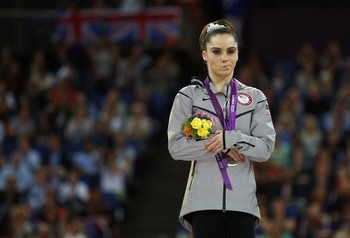 Here was Maroney's facial expression on the podium Saturday:
"I was trying not to cry," Maroney said of being on the podium.
Maroney also competed in the all-around at the World Championships, where she did not qualify for the 24-woman final because two Americans finished ahead of her in qualifying.
Maroney's World Championships are over, but her career is most certainly not:
Women's Vault Results
Gold: McKayla Maroney (USA) 15.724
Silver: Simone Biles (USA) 15.595
Bronze: Hong Un Jong (PRK) 15.483
4. Giulia Steingruber (SUI) 15.233
5. Oksana Chusovitina (UZB) 14.583
6. Thi Ha Thanh Phan (VIE) 14.299
7. Yamilet Pena Abreu (DOM) 13.966
8. Chantysha Netteb (NED) 6.950
Here are the results and recaps of the other apparatus finals at the World Gymnastics Championships on Saturday:
Men's Floor Exercise
Gold: Kenzo Shirai (JPN) 16
SIlver: Jacob Dalton (USA) 15.6
Bronze: Kohei Uchimura (JPN) 15.5
4. Daniel Purvis (GBR) 15.4
5. Diego Hypolito (BRA) 15.366
5. Steven Legendre (USA) 15.366
7. Fabian Hambuechen (GER) 15.3
8. Scott Morgan (CAN) 14.833
Shirai, 17, is the youngest male competitor at worlds. His routine, which scored a whopping 16.233 in qualifying, included an unprecedented quadruple twist. No other man scored better than 15.6 in qualifying or finals.
Dalton became the first American man to win a floor exercise medal at a worlds or Olympics since Paul Hamm's gold in 2003.
Uchimura, the 2012 Olympic silver medalist and 2011 worlds gold medalist, won his 11th career World Championships medal.
Men's Pommel Horse
Gold: Kohei Kameyama (JPN) 15.833
Silver: Max Whitlock (GBR) 15.633
Silver: Daniel Corral Barron (MEX) 15.633
4. Hongtao Zhang (CHN) 15.6
4. Alberto Busnari (ITA) 15.6
6. Robert Seligman (CRO) 15.433
7. Matvei Petrov (RUS) 15.416
8. Prashanth Sellathurai (AUS) 14.033
Kameyama became the third different Japanese gymnast to win gold in the first three events at the World Championships.
Reigning Olympic and world champion Krisztian Berki of Hungary shockingly failed to qualify for the final. Olympic silver medalist Louis Smith of Great Britain is not competing this year.

No Americans made the final on what is their Achilles heel event. The last U.S. man to win a medal on pommel horse at a worlds or Olympics was Sasha Artemev in 2006 (bronze).
Women's Uneven Bars
Gold: Huang Huidan (CHN) 15.4
Silver: Kyla Ross (USA) 15.266
Bronze: Aliya Mustafina (RUS) 15.033
4. Simone Biles (USA) 14.716
5. Sophie Scheder (GER) 14.683
6. Yao Jinnan (CHN) 14.633
7. Ruby Harrold (GBR) 14.333
8. Rebecca Downie (GBR) 13.8
Biles' pursuit of medals in all five events at worlds ended when Mustafina, the all-around bronze medalist, pushed her off the podium.
Still, Ross' second silver of worlds put the U.S. in position to become the first nation to win a gold or silver in every event for one gender at a World Championships since 1992.
In 1992, the Commonwealth of Independent States (former Soviet Republics) men's team accomplished the feat.
Ross and Biles are both qualified for the final two events Sunday — balance beam and floor exercise.
Men's Still Rings
Gold: Arthur Zanetti (BRA) 15.8
Silver: Aleksandr Balendin (RUS) 15.733
Bronze: Brandon Wynn (USA) 15.666
4. Yang Liu (CHN) 15.633
5. Lambertus van Gelder (NED) 15.533
5. Samit Ait Said (FRA) 15.5
7. Koji Yamamuro (JPN) 15.433
8. Danny Pinheiro Rodrigues (FRA) 14.566
Wynn, the former Ohio State standout, won the first U.S. World Championships or Olympic medal on still rings since 1994. His score was challenged by the U.S., but the International Gymnastics Federation did not uphold it.
Wynn's difficulty score had been one tenth higher in qualifying. An extra tenth would have elevated Wynn to silver.
Zanetti followed up his gold medal from the 2012 Olympics. The 2010 and 2011 world champion and 2012 Olympic silver medalist was not in the field. That's China's Chen Yibing, the "Lord of the Rings."
Simone Biles' future after winning all-around