The Olympic torch relay departed Moscow on its fourth day, completing a highlight-filled trip around the Russian capital. Here are some highlights from the first few days of the Olympic torch relay:
Several Olympic medalists were part of the Moscow leg, including gymnast Svetlana Khorkina and figure skater Irina Slutskaya.
Khorkina, a seven-time Olympic medalist, was reportedly recently robbed on the streets of Moscow. But she was in great spirits after carrying the torch earlier this week.
"I had those nostalgic feeling as if I were standing on the Olympic podium again – I had three Olympics in my career," Khorkina told Voice of Russia. "I can compare the ceremony to receiving an Olympic gold, though the only difference is that the medal is all mine while the symbolic Olympic flame belongs to the whole world."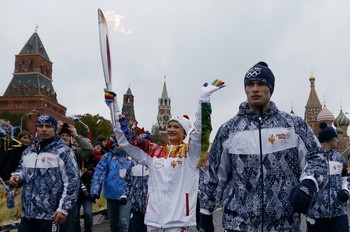 Slustkaya, the only Russian woman to win an Olympic singles figure skating medal since the fall of the Soviet Union, took the flame up Moscow's tallest building.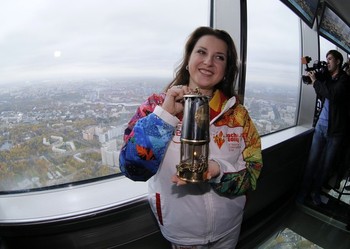 Voice of Russia also asked a torch bearer what instructions they were given before receiving the handoff.
"Well, we were instructed on the way we should hold the torch, specifically not to hold it too close to one's clothes, so they wouldn't catch fire," Andrei Sukhantsev said.
The flame also visited sites from the 1980 Moscow Olympics, the only Games that Russia previously hosted, and Russian police headquarters.
Even actor Steven Seagal was reportedly on hand for part of the ceremonies in Moscow.
The famous actor and producer told the Voice of Russia that he liked the ceremony very much and was hoping to come to Sochi in February to watch the Olympics.
The Olympic flame departed Moscow on Thursday, as Russia's Emergency Situations Ministry assured Sochi's facilities are safe against potential natural disasters.
Sochi torch relay: by the numbers