Canada's goal at the Vancouver Olympics was to "Own the Podium," but first it had to reach the top step for the first time on home soil.
No Canadian won gold at either the 1976 Summer Games in Montreal or the 1988 Winter Games in Calgary. The infamy had to end in 2010.
The top billed hope was a moguls skier, 2006 Olympic champion Jenn Heil, who competed the night after the Opening Ceremony. But Heil took silver behind American Hannah Kearney.
The spotlight stayed on moguls for the men's competition the following night at Cypress Mountain. The favorites were enigmatic Australian Dale Begg-Smith and Frenchman Guilbaut Colas, who combined to win the five World Cup events going into the Olympics.

But Quebec's Alexandre Bilodeau beat them both with a chill-inducing run, inspired by his older brother, Frederic, who has cerebral palsy.
"It puts everything back into perspective," Bilodeau said then, according to the Toronto Star. "I've got that chance to train, and maybe one day will be an Olympic champion, and I'll take it. Even if it's raining, I'll take it. I'll go train. (Frederic) doesn't even have that chance, and he has a smile. Every morning he wakes up, and he's got all the right to complain, and he never complains. … We can learn from those people."
What's Bilodeau up to now? He's still skiing at an elite level, finishing second to countryman Mikael Kingsbury in the last World Cup season standings and the 2013 World Championships.
Bilodeau will try to become the first moguls skier to win multiple Olympic titles in Sochi, but he might get beaten to the feat by Kearney. Regardless, he said he will retire after the season.
"A lot of people are asking me, how is it going to feel to defend my medal?" Bilodeau told CTV. "I don't see it as I'm going to defend. My medal is at home, I'm not bringing it to Sochi. It's not like boxing, I'm not putting it on the table. I'm going to Sochi to try to be the first one to win two golds in the row. And I'll be ready, I'll be ready."
It's true that the Olympic crowds on the streets and in Robson Square in downtown Vancouver were never more raucous than during and after the men's hockey final on the final day of the Games.
But a clear second place was that night two weeks earlier, when Bilodeau ended the infamy.
"Oh, Canada, the drought is over," NBC Olympics commentator Todd Harris said. "Alexandre Bilodeau has won gold. … You enjoy it, Frederic. The headlines from Newfoundland to Yukon will read the drought is over."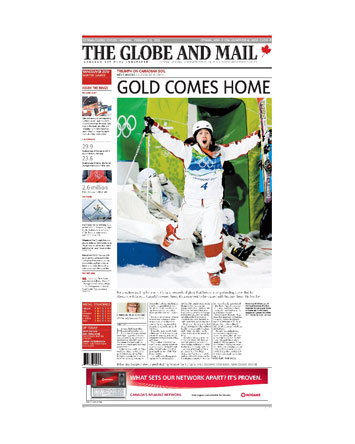 Analyzing Infostrada's 2014 Olympic medal predictions