Here are 100 storylines (in no particular order) from now through the beginning of the Games on Feb. 6 and the Closing Ceremony on Feb. 23.
1. Lindsey Vonn's return from a knee-shattering crash at the World Championships in February.
2. Evan Lysacek's race against time recovering from a torn labrum in his hip to make the U.S. Olympic Team.
3. Will Lolo Jones make the Olympics?
4. World champion Sarah Hendrickson's recovery from major knee surgery with an eye on the first Olympic women's ski jumping competition.
6. The Olympic torch relay's trip to space, up a mountain, to the bottom of a lake and other adventures.
7. Who will light the Olympic cauldron at the Opening Ceremony? Vladislav Tretiak is a popular pick.
8. The pressure on Alex Ovechkin and Co. to win the first post-Soviet era men's hockey gold for Russia.
9. The new figure skating team event, which is drawing varied responses.
10. Russian figure skater Yevgeny Plushenko attempting to win a medal in a fourth straight Olympics.
11. Italian luger Armin Zoeggeler attempting to win a medal in a record sixth straight Olympics.
12. South Korean Yuna Kim's comeback — beset by injury — to try to defend her figure skating gold.

13. Which goaltender starts for the U.S. Olympic men's hockey team — Jonathan Quick, Jimmy Howard or, perhaps, Ryan Miller?

14. Which goaltender starts for Canada — Roberto Luongo, Carey Price, Corey Crawford or someone else?
15. Could the unemployed goalie Ilya Bryzgalov make the Russian hockey team, and could he play?
16. The U.S. men's hockey team plays Russia at 7:30 a.m. ET on the second Saturday of the Games.
17. A likely fourth meeting between the U.S. and Canada in five Olympic women's hockey finals.
18. Potential Olympic team siblings — Alex and Maia Shibutani, Amanda and Phil Kessel, Jocelyne and Monique Lamoureux, Joe and Matt Mortensen, Brad and Bryon Wilson, Bryan and Taylor Fletcher and Nick and Sarah Hendrickson.
19. The first U.S. man to win three straight Winter Olympic golds in one event. It could be Shaun White in the halfpipe.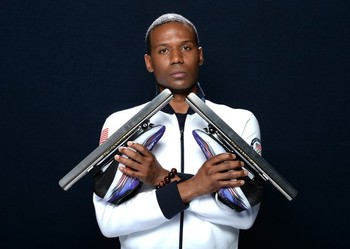 20. Or Shani Davis in the 1000m.
21. Or Seth Wescott in snowboardcross.
22. Todd Lodwick going for an American Winter Olympic record sixth Olympic appearance.
23. Kikkan Randall and Holly Brooks eyeing the first U.S. Olympic gold medal in cross-country skiing, and second of any color.
24. Tim Burke eyeing the first U.S. Olympic medal in biathlon.
25. "The King." Norwegian biathlete Ole Einar Bjoerndalen needs two medals to take the solo record for most career Winter Olympic medals. Two golds will tie the record for most career golds.
26. Figure skating at noon ET.
27. Alpine skiing at 2 a.m. ET.
28. The new Olympic snowboarding event of slopestyle — Shaun White vs. Mark McMorris.
29. White's international halfpipe rivals — Switzerland's Iouri "I-Pod" Podlatchikov and Japan's Ayumu Hirano, who is 14 and a growth spurt from cresting 5 feet.
30. The most hotly contested U.S. Olympic Trials — women's halfpipe snowboarding — in a five-event series in December and January.
31. One of the following will not make the U.S. Olympic halfpipe team — 2002 Olympic champion Kelly Clark, 2006 Olympic champion Hannah Teter, 2006 Olympic silver medalist Gretchen Bleiler, the first woman to land a double cork, Elena Hight, or 2013 World champion Arielle Gold.
32. The reigning Olympic halfpipe champion, Torah Bright of Australia, eyeing three different snowboard events.
33. Alpine skier Ted Ligety going after the top medal haul by an American since Eric Heiden.
34. Julia Mancuso trying to become the first U.S. Alpine skier to win a medal at three straight Olympics.
35. The 20-year anniversary of Lillehammer 1994 — Tonya vs. Nancy, Koss, Blair and Jansen and "The Forsberg."
36. The Missy Franklin of the Winter Olympics — precocious 18-year-old Alpine skier Mikaela Shiffrin. 

37. Jincy Dunne, 16, who could become the youngest woman to make the Olympic hockey team.

38. Miracle on Ice goalie Jim Craig working for a Russian news agency.
39. Johnny Weir analyzing figure skating for NBC.
40. Curling pants.
41. Reigning U.S. curling champion Erika Brown, who was on the U.S. team at the 1988 Olympics, when curling was a demonstration sport. She was 15.
42. Ice dancers Meryl Davis and Charlie White attempting to turn Vancouver silver into Sochi gold. The U.S. has never won an ice dance gold.
43. Davis and White's biggest competition, who happen to be their training partners. Canada's Tessa Virtue and Scott Moir, the defending Olympic gold medalists.
44. Another figure skater who trains in Detroit, three-time world champ Patrick Chan, trying to become the first Canadian to win men's singles gold.
45. Quadruple jumps.
46. Twizzles.
47. The "almost girl" Ashley Wagner, aptly named Gracie Gold and the quest to get a U.S. woman back on the figure skating podium.
48. In pairs figure skating, Maksim Trankov's pants.
49. Trankov and partner Tatiana Volosozhar trying to restore Russian pairs dominance after golds in every Games from 1964-2006 but no medals in 2010.
50. Viktor Ahn, the three-time 2006 Olympic champion for South Korea now skating short track for Russia.
51. The U.S. short track team without the retired Apolo Ohno and Katherine Reutter. 
52. 2010 short track double bronze medalist J.R. Celski and his collaboration with Macklemore.
53. The first Olympic aerials competition since 1998 without the late Jeret "Speedy" Peterson.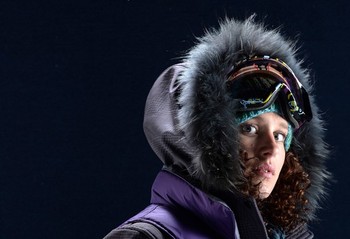 54. Lindsey Jacobellis' second shot at redemption in snowboardcross.
55. The two best speedskaters of this century — Shani Davis and Sven Kramer — hopefully being paired together as they were in Vancouver.
56. Kramer's coach, Gerard Kemkers, who had an infamous moment at the 2010 Olympics.
57. Dutch speedskating fans and the Holland House.
58. Ireen Wust, the world's best all-around female speedskater, who is bisexual.
59. The first U.S. Olympic women's speedskating medal since 2002, which could come from Heather Richardson or former college basketball player Brittany Bowe.
60. Pin collectors.
61. Reigning Olympic four-man bobsled champion Steve Holcomb and the Night Train 2 sled.
62. American bobsledder Elana Meyers' pursuit of Canadian Kaillie Humphries, one of the most dominant athletes across the Olympics.
63. Another Jamaican bobsled team?
64. Speeds at the Sanki Sliding Center bobsled/luge/skeleton track four years after the death of Georgian luger Nodar Kumaritashvili in Whistler.
65. Beer-swilling Canadian skeleton slider Jon Montgomery's last call.
66. Two American skeleton sliders with remarkable stories — Noelle Pikus-Pace and Katie Uhlaender.
67. Your Daly Nitro.
68. 2004 Olympic 100m silver medalist Lauryn Williams' bid to become the fastest Winter Olympian ever.
69. A German woman winning luge gold — or the stunner of the Games if they don't.
70. The new luge team relay, which uses a touchpad for exchanges.
71. The subtropical weather in Sochi.
72. Joannie Rochette, the Canadian figure skater who won a 2010 bronze medal days after her mother died, in a different role.

73. The medal table, which should be very close after the U.S. won the most medals by a single nation ever in 2010.
74. The addition of eight action sports medal events — men's and women's ski and snowboard slopestyle, ski halfpipe and parallel special slalom snowboarding.
75. Slovenian singing sensation Tina Maze coming off the most dominant Alpine skiing season by a man or woman ever.
76. Bode Miller, back after missing an entire Alpine season due to injury and seeking his fifth Olympics and sixth medal (or more).
77. Norway racking up medals in cross-country skiing, led by Petter Northug and Marit Bjørgen.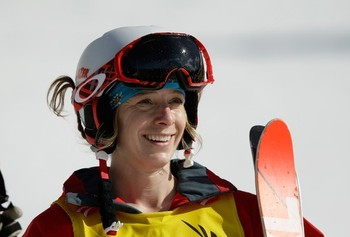 78. The first U.S. gold medal of the Games — could it be moguls skier Hannah Kearney again?
79. The Olympic farewell for the first Canadian Olympic champion in 2010, moguls skier Alexandre Bilodeau.
80. Aquaman and the U.S. Nordic combined team.
81. Wang Meng, the divisive Chinese women's short track superstar who can match or beat Apolo Ohno's record for most career short track medals.
82. Swiss wizard Simon Ammann, one medal away from tying the Olympic ski jumping career record of five.
83. The U.S. Alpine snowboarder who lives in his car.
84. Meteorite medals.
85. Tiger Woods.
86. The maturation of Seth Jones, who has two months to prove a 19-year-old NHL rookie belongs on the U.S. Olympic Team.

87. New Year's Day, when the U.S. men's and women's Olympic hockey teams will be announced at the Winter Classic.
88. Vladimir Putin, yes, but also Sochi Olympic Organizing Committee president Dmitry Chernyshenko, who has two Twitter accounts.
89. Billionaire/Brooklyn Nets owner/Russian biathlon president Mikhail Prokhorov.
90. A just-opened railway connecting the "coastal cluster" with the "mountain cluster."
91. New venues built for the Games, including Fisht Stadium, site of the Opening and Closing Ceremonies.
92. Cross-tracking and impeding every night in short track.
93. Competition the night before the Opening Ceremony.
94. Breakthroughs of stars in new Olympic sports, such as Jamie Anderson (snowboard slopestyle), David Wise and Torin Yater-Wallace (ski halfpipe) and Tom Wallisch (ski slopestyle).
95. The Parade of Nations finishing in under three hours.
96. Who's chosen as the U.S. flag bearer at the Opening and Closing Ceremonies.
97. The weather inevitable: Alpine skiing events being delayed and/or postponed.
98. The journalism inevitable: feature stories on the last man to finish cross-country's grueling 50km race.
99. New IOC president Thomas Bach's final remarks at the Closing Ceremony.
100. Extensive coverage of the Paralympics.