Liu Xiang and other Chinese athletes donned Red Army uniforms at a national team meeting in China on Sunday.
The athletes were together for what's been called a "motivational convention" and an "oath-taking rally" in the birthplace of China's communist revolution on Sunday, according to the South China Morning Post.
Here's what China Daily posted:
"The team members are all in Red Army uniforms at Jinggang Mountains, known as the birthplace of the Chinese Red Army, predecessor of the People's Liberation Army, and the 'cradle of Chinese revolution.'"
Liu, the 2004 Olympic champion, pulled out of the last two Olympics due to an Achilles injury. The Achilles also sidelined him this year.
He is in "recovery training" and does not have a schedule to return to the national team, according to the South China Morning Post.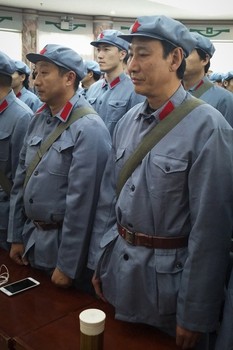 Finalists for IAAF World Athlete of the Year