We have liftoff.
An Olympic torch blasted into space aboard a Russian rocket in a special part of the Sochi torch relay from Kazakhstan at 11:14 ET on Wednesday night.
NASA astronaut Rick Mastracchio, Russian cosmonaut Mikhail Tyurin and Japanese astronaut Koichi Wakata took the torch aboard a Russian Soyuz rocket with Sochi 2014 designs.
An Olympic torch has gone into space at least once before. A ceremonial torch went on the space shuttle Atlantis to the International Space Station before the 2000 Olympics, but this will be the first time it will go into open space on a spacewalk, scheduled for Saturday.
Russian cosmonauts Oleg Kotov and Sergey Ryazanskiy will take the torch as part of a six-hour spacewalk beginning at 9:30 a.m. ET, according to Space.com. It will be tethered to make sure it doesn't fly away.
The torch will not be lit on the expedition for safety reasons. Photos and video are expected to be made available after the spacewalk.
"We'd like to showcase our Olympic torch in space," Kotov said, according to Engineering & Technology magazine. "We will try to do it in a beautiful manner. Millions of people will see it live on TV, and they will see the station and how we work."
UPDATE: The torch reached the International Space Station on Thursday morning.
The torch is expected to return to Earth at 9:50 p.m. ET on Sunday, landing in Kazakhstan.
The crew that will stay at the International Space Station for six months will be able to watch the Olympics (on a delay), according to Interfax.
One of the three Sochi Olympic mascots — a polar bear — was also aboard the rocket:
Here are photos from before the launch: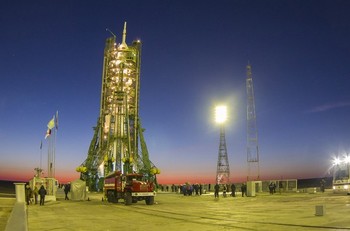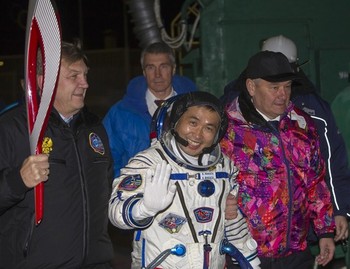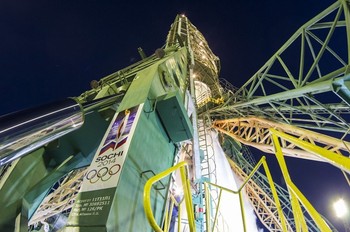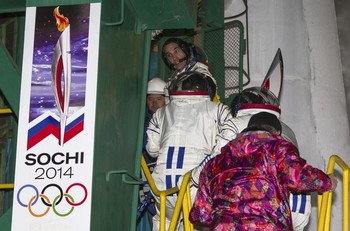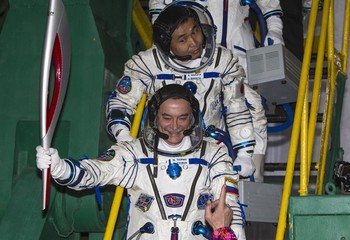 Journalist says torch flame has gone out at least 44 times