It's been referred to as the all-star team of U.S. curling. Call it the 2014 U.S. Olympic Team, too.
Erika Brown's rink clinched a spot at the Sochi Olympics by sweeping a rink skipped by Allison Pottinger at the U.S. Olympic Trials in Fargo, N.D. Brown and Co. won 8-7 on Saturday night after a 7-5 victory Friday in the best-of-three championship series.
The game was tied at 7-7 after nine of 10 ends, but Brown's rink held the hammer (last stone) in the final end, an advantage. Brown converted on the final throw to score the decisive point and screamed as the rock settled.
"I am still in a little bit of shock, but I'm so excited," Brown said on NBCSN.
The Olympic Trials conclude with a winner-take-all men's match between rinks skipped by Pete Fenson and John Shuster on Sunday at 3 p.m. Eastern time. NBCSN and NBC Live Extra will have coverage.
Brown, 40, has been to the Olympics before. So have all of her teammates who came together from different rinks two years ago.
Brown will go to her third Games in a 26-year span. She was the youngest member of the U.S. delegation at the 1988 Calgary Olympics, when curling was a demonstration sport. The former Wisconsin high school state champion golfer also played on the first official U.S. Olympic Team in 1998 in Nagano, Japan.
Brown's vice skip is Debbie McCormick, 39, who was the skip of the 2010 U.S. Olympic Team that finished in last place in Vancouver. The curling supplies distributor also played on the 1998 and 2002 Olympic Teams.
Second Jessica Schultz, the youngest member of the rink at 28, played on the 2006 U.S. Olympic Team.
Lead Ann Swisshelm, 45, will almost surely be the oldest woman out of the entire U.S. athlete delegation in Sochi. She played on the 2002 Olympic Team with McCormick.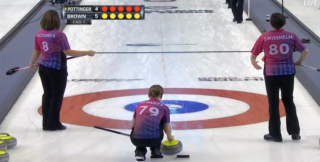 Every member of Brown's rink wears a number on the back of her shirt corresponding to an element on the periodic table. They usually have the symbol for each element on their sleeves, but those were replaced by U.S. Olympic patches this week.
What are their Olympic medal chances?
Brown's rink came into the Olympic Trials as the reigning national champion. It lost in the bronze-medal match at the World Championships in March. The U.S. is ranked No. 7 in the world.
The Olympic field will include 10 nations, including rinks representing reigning world medalists Great Britain (Scotland), Sweden and Canada. No U.S. women's rink has won an Olympic medal.
"We really held it in there today with all the nerves and all the craziness," McCormick said. "I'm ready to go to Sochi and kick some butt."
Video: Trumpet player high dives after national anthem at USA Swimming meet