Kristina Koznick can't remember the conversation, only the moment she shared with Lindsey Vonn in a hallway at the 2006 Olympic Village.
Koznick, her crutches resting next to a spin bike, struggled just to push the pedal with her right leg and circulate motion. In her toil, she noticed a woman hobbling down the corridor.
They made eye contact. It was Vonn, her teammate back from a hospital after suffering a bruised back and hip in a downhill training crash earlier that week.
"We both kind of chuckled at each other," Koznick said in a phone interview Wednesday. "We looked at each other, and it was just like, 'How did this happen?'"
Two weeks earlier, Koznick, the top U.S. slalom racer, skied off a 12-to-15-foot ledge in Ofterschwang, Germany, and tore her right ACL on Feb. 4. She was 30, at her third and final Olympics, and was an outside medal contender, the eighth-ranked slalom skier in the world.
On Feb. 22, Koznick skied. She successfully made it down the mountain in Sestriere, Italy, but that was it. She was in 34th place, 3.5 seconds off the lead and didn't risk a second run in the Olympic slalom won by celebrated Swede Anja Paerson. (Vonn finished 14th)
Koznick's injury was first reported to be a partially torn ACL, a vague diagnosis but the same words describing the result of Vonn's training crash in Copper Mountain, Colo., on Tuesday.
"I live in Vail," Koznick said two hours after Vonn's diagnosis was made public. "Doesn't take long for word to spread around here."
Koznick and Vonn's careers have crossed since they were "itty-bitties," even though they were nine years apart. They developed separately at the same short Minnesota slope, Buck Hill, with the same Austrian-born coach, Erich Sailer.
"She had my poster on my wall," Koznick said, "so that dates me a little bit."
They made the 2002 and 2006 Olympic Teams together. Vonn was the up-and-coming speed racer, Koznick the veteran tech specialist.
When Koznick crashed on Feb. 4, 2006, she called Bill Sterett, the same orthopedic surgeon and U.S. Ski Team doctor who operated on Vonn's blown-out right knee after her World Championships crash in February.
"When he looked at the MRI, it looked like there was a little strand still attached, but when he tested my knee he said he couldn't feel much of an ACL," Koznick said.
They knew that would be her final season of ski racing, but Koznick determined she would do anything possible to race 18 days later.
She worked daily with Sterett, a team of doctors and physical therapists. Koznick wore a brown knee brace to act as an ACL, holding her tibia in place.
"At the time, I thought I could do this," Koznick said. "But [my knee] was always in the back of my head. My brain wouldn't allow my body to push it to the limits in ski racing."
Koznick was still on crutches two days before the slalom. Sterett told her she needed to ditch them and test her knee to show she could line up at the start gate.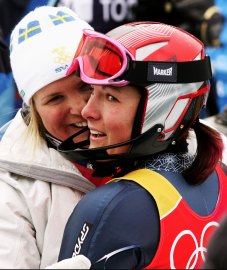 She made it to race day, still limping. At the top of the mountain, she still believed she could win a medal. She changed her mind shortly after leaving the start house.
"It was obvious from the outset that she couldn't go, laboring through gates, unable to shift her weight quickly," the New York Daily News reported from Sestriere.
She crossed the finish, completed media interviews and made her way back to Sterett and her team.
We're pulling the plug, they told her. It's too dangerous for you to take another run. You're not in medal contention.
"I didn't really [agree], but I didn't fight it," she said. "It was their way of releasing me from [making the decision]."
Koznick now raises a 3-year-old girl, Charly, and a 1-year-old boy, Maxwell. She manages a gym with a goal to one day own a gym. She now knows that an error, hooking a gate with the tip of her ski, on that single run in Sestriere could have caused greater knee damage.
But she kept that from entering her mind on Feb. 22, 2006. And she doesn't regret taking a run down a mountain 18 days after tearing an ACL.
"'It spoke volumes about me and definitely had shown that I really can do something if I put my mind to it," she said. "As an athlete, when you're in it, you believe anything is possible."
Lindsey Vonn headlines across globe