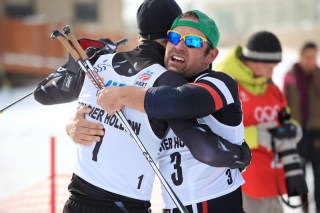 With a name like Dakota Blackhorse-von Jess, you better have an interesting life story.
Blackhorse-von Jess is a U.S. Olympic cross-country skiing hopeful. His mother is of Native American descent, his dad is German and he has child acting and modeling credits.
"I'm probably the first of my kind," he said by phone amid wind gusts on a break from skiing in the Oregon woods.
He would probably not make the U.S. Olympic Team if named today. Blackhorse-von Jess, 27, is the fifth-ranked U.S. sprinter, and the top four are expected to be picked for Sochi.
He is also not on the U.S. National Team, but he could make gains in competitions to get into the Olympic picture before the team for Sochi is named in late January.
Blackhorse-von Jess' mother is of Nez Perce Native American descent. The Pacific Northwest tribe's French name translates to "pierced nose."
"It's a complete misnomer," he said. "They gave the name to the wrong tribe. They have no piercings. My ear is pierced, but I haven't had an earring in it since probably the sixth grade. I was a product of the '90s."
His father's German family is quite large and supportive of his skiing. His uncle is Peter von Jess, the chairman and chief executive of USfalcon, a defense contract company and his primary sponsor.
"I have just the right mix of strength and power and cardiovascular endurance," said the bearded, backwards-baseball-cap-wearing Blackhorse-von Jess.
He also has an IMDB page with one credit.
"I was a child actor," he said. "A couple commercials. An independent movie."
They included a spot for Taco Time, a Mexican fast-foot chain, when he was about 8.
And, for Cellular One, a knockoff of "Sleepless in Seattle" called "Cellularless in Seattle."
"The male and female leads looked just like Tom Hanks and Meg Ryan," he said. "They used the houseboat from the movie."
Blackhorse-von Jess played the role of the matchmaking boy from the 1993 romantic comedy, Jonah.
"I watched ['Sleepless in Seattle'] before the first day of our filming," he said. "I don't think they were ever able to air ['Cellularless in Seattle'] because of lawsuits."
In another commercial, he played a boy throwing a pet frog onto a conveyor belt sorting out green beans.
"I actually enjoyed it a lot," he said. "I don't want to make it sound like tiger moms or set moms that destroy lives. It was a busy childhood, but I wasn't Macaulay Culkin."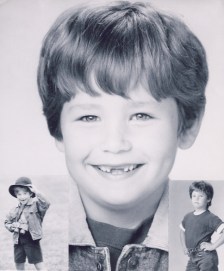 When he was 9, an agent asked his mom if she would take him to Los Angeles to advance his career.
She declined and instead went to Pocatello, Idaho, where he learned to ski. They later moved back west to Bend in 2001.
Blackhorse-von Jess attended Mountain View High School with Olympic decathlon champion Ashton Eaton.
He went to the 2002 Salt Lake City Olympics and watched the tainted cross-country skiing competition at Soldier Hollow.
A high school state skiing champion, he said he scored "1,500ish" on his SAT (back when it was out of 1,600) but turned down a full ride to the University of Washington.
The offer was accompanied by an internship with NASA and direct admission into the school's college of computer science and engineering.
He was more interested in the 2005 World Junior Championships in Rovanieme, Finland, just south of the Arctic Circle.
"I decided that I wanted to take a year, instead of going to college, take a year and try this ski racing thing," he said. "I would certainly be a lot less broke now if I took [Washington's offer], but I certainly wouldn't be skiing."
NASA was hard to resist.
"I don't think you know what you're turning down," officials from the University of Washington and NASA told him.
"I didn't do a lot of prep for the SAT," he said. "I didn't take school super seriously. The fact that it came so easily made the decision so easy for me. I thought I could [come back later to college and] do this again."
He finished 29th in a junior worlds race and did go back to college.
He enrolled at Dartmouth in fall 2006, without financial aid, and graduated in spring 2010 with a computer science degree.
Any hopes of making the 2010 U.S. Olympic Team vanished when he contracted the swine flu over the 2009-10 holidays.
"It was the worst sickness I've ever had," he said.
They called it the Smallwood Sickness, after the name of a family that hosted the holiday party where so many people got sick. But nobody got it as bad as Blackhorse-von Jess.
"Crawl, pass out 30 minutes, wake up, crawl some more," he said.
He waited about a week before getting antibiotics and competed at the U.S. Championships in January 2010, one month before the Olympics, on "a boatload of Ibuprofen."
He finished 38th and 41st in two races and watched the Vancouver Games on TV.
Blackhorse-von Jess now lives in Bend, Ore., where he's coached by 1992 and 1994 Olympian Ben Husaby and trains with high schoolers.
"A bunch of snot-nosed kids," he joked. "We have middle schoolers, too."
Do they ever beat him?
"No. God no," he said. "That's funny though. It's more of a mentor relationship. Usually I'm encouraging them to at least try to do a pull-up."
Blackhorse-von Jess is not concerned about the lack of competition. He's trained alone for most of his life and gotten pretty good at it. He won his first national sprint title in January.
He supports his training as the associate director of the Bend Endurance Academy, an independent computer software professional and a handyman.
This year, Blackhorse-von Jess flew to Europe before the World Cup season starts Nov. 29 to enter lower-level FIS races.
He said he felt confident, having beaten likely U.S. Olympians Andy Newell and Simi Hamilton in a tune-up race in late October. At 5-foot-9, he looks up to them.
"They are the two best [U.S.] racers," he said. "To ski away from those guys, that was a big deal."
Before flying to Finland, he said he needed to race "at a top-20 level" to boost his chances of making the World Cup team. Blackhorse-von Jess finished 34th in his first FIS race Friday.
He's making news in Scandinavia, where cross-country skiing is a way of life.
"In America, it's less exotic I guess," he said. "But I just made the Norwegian Nordic ski website. They wrote an article, and I was included in it simply because of my name, which is absolutely absurd and kind of funny, too."
U.S. skier tore ACL, competed at Olympics 2 weeks later