International Olympic Committee president Thomas Bach reportedly discussed the importance of sport in society and its contribution to building a more peaceful and better world in a private meeting with Pope Francis on Friday, according to the IOC.
Bach, the German elected as IOC president in September, stopped by the Vatican during a trip to Italy.
Here's how the IOC described the meeting:
In a private audience, the Pope stressed the contribution that the Olympic movement can make to peace building and mutual understanding, and the values that sport can deliver.

President Bach emphasised sport's ability to build bridges and the example that the Olympic Games and especially the Athlete's Village can give to the world in showing how different cultures can live together in harmony.

The Pope also congratulated President Bach on his election as President of the IOC – which took place in his home town of Buenos Aires in September.
Bach will present Pope Francis with the gold Olympic Order, the highest IOC award, on Saturday.
Here are photos of their meeting, via The Associated Press: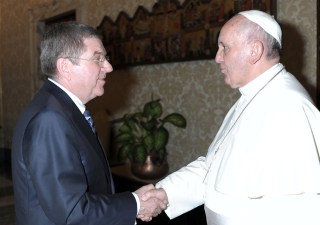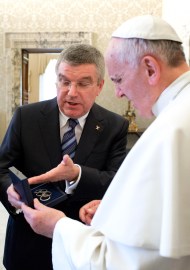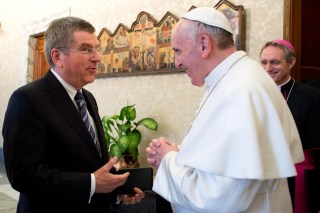 Baseball, softball still have chance at 2020 Olympics, says IOC president