The Olympic addition of women's ski jumping makes this arguably the most story-filled World Cup season in the sport's history.
Most U.S. eyes will be on a jumper who might not compete at all before Sochi.  Utah teen Sarah Hendrickson, the reigning world champion, tore the ACL, MCL and meniscus in her right knee in an Aug. 21 crash and hopes to be ready to fly in January.
In Europe, three decorated men enter the Olympic season with something to prove.
Japan has two intriguing jumpers separated by 24 years in age.
The ski jumping World Cup season begins in Klingenthal, Germany, this weekend for men and in Lillehammer, Norway, in two weeks for women. In will make more than a dozen stops — including the prestigious Four Hills Tournament — before the Olympics from Feb. 8-17.
Here are the key storylines:
1. Will Sarah Hendrickson jump in Sochi?
The latest Hendrickson recovery update came via Instagram on Thursday:
It's hard to believe it has been 12 weeks since my reconstructive knee surgery. Thank god the days of pain and suffering on the couch are behind me and I am back to doing normal things. After hours of hard work in the gym it seemed to have shown at my doctors appointment yesterday. He was absolutely amazed with my gain in muscle strength and "on track for jumping in January" (Without set backs) A huge thanks to my PT for getting me to this phase as we are one step closer to the ultimate goal!
Her goal has been to jump in January from the start. It was quite ambitious but also necessary.
The U.S. Olympic Team is expected to be composed of four women. The winner at the Olympic Trials from Dec. 28-29 in Park City, Utah, will get the first spot. The next three are due to go to the top three ranked women in the World Cup standings as of Jan. 19 or 20.
The Olympic selection procedures include a discretionary selection clause that could allow Hendrickson to be picked even if she doesn't have any World Cup points.
So, if Hendrickson can't compete in a pre-Olympics World Cup, she'll need to prove to coaches she deserves to go to Sochi. There are jumping hills in her hometown of Park City, Utah, where she could take those first jumps whenever she feels ready.
In the meantime, a few healthy U.S. women will set out on the World Cup tour to earn the U.S. the maximum of four quota spots. The leaders will be 2009 world champion Lindsey Van, Jessica Jerome and Abby Hughes, who were the top three Americans in each of the last two World Cup seasons.
If there are four U.S. women in the top 30, the fourth will be on the bubble come mid-January. If Hendrickson is put on the team, somebody will have to be bumped out.
"With Hendrickson hurt, it will be a test for us," Hughes said. "We have never competed in an Olympic year, so we never had this kind of intensity. There are all these new emotions that we haven't ever had with each other before. There are eight or nine of us fighting for four spots."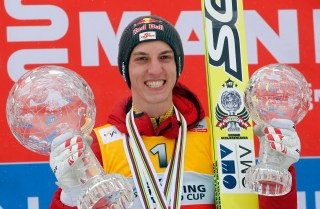 2. An Austrian, a Swiss and a Finn
Gregor Schlierenzauer — Schlieri — is the star of ski jumping. As he was this time four years ago. Yet the Austrian ceded the spotlight to Simon Ammann at the 2010 Olympics, taking two bronzes behind the Swiss wizard's double gold.
Schlierenzauer is coming off his second overall World Cup title and his second straight Four Hills crown. At 23, he already holds the career World Cup wins record of 50. He enters the Olympic season with the pressure of backing up that success with a breakthrough in Sochi.
"Individual gold is missing in my collection," Schlierenzauer told Austria's Kleine Zeitung. "But the real goal is to get to the Olympics in top form. No one knows what will then happen in Russia."
Ammann enters what would be his fifth Olympics in an unfortunately familiar head-scratching position. Ammann swept the individual Olympic events in 2002 and 2010. But he went into each of the last three Olympic seasons without World Cup results befitting an Olympic champion.
In 2000-01, he competed once and finished 41st. A year later, he flew to Salt Lake City and stunned favorites Adam Malysz and Sven Hannawald in both the normal and large hills.
He fell back into mediocrity between 2003 and 2006, never finishing in the top 10 in the overall World Cup standings. He then went to Torino and, in a dreadful defense of his titles, placed 15th and 38th.
Ammann picked it back up going into 2009-10, but he was still behind Schlierenzauer. No matter, Ammann repeated his Salt Lake City feat and registered the longest jump in Olympic history (144 meters) to boot.
He has since regressed. Ammann hasn't won an event since March 2012 and finished 14th and 11th in the overall World Cup standings the last two years.
Has he finally passed his prime at 32? Or does he have enough left to win one more Olympic gold and break his tie with mercurial Finnish legend Matti Nykanen?
"I can not be euphoric about Sochi every day," Ammann, whose wife is Russian, told Deutsche Presse-Agentur. "No, I must do my day-to-day work."
Finally, there is another Finn. Janne Ahonen is the last link to any semblance of national pride in a sport Finland once dominated. At 36, he's come out of retirement for a second time.
Ahonen is a five-time Olympian with 10 career World Championship medals and 36 World Cup wins. He is also one of the greatest winter sports athletes of all time without an individual Olympic medal. Ahonen owns two Olympic silver medals in the team event and three fourth-place finishes in individual events.
"I thought, if the ski jumping in Finland is so bad, maybe it helps if I return," Ahonen said, according to German newspaper Die Welt. "The people are desperately waiting for success. That's the same for me. I like these situations. I need this pressure."
3. Japan defies the ages
There's little doubt the best women's jumper, with Hendrickson sidelined, is Japan's Sara Takanashi. She won the World Cup overall title over the American last year and took second at the World Championships.
Even if Hendrickson is healthy, Takanashi could beat her in Sochi. She won a test event at the Sochi venue on Oct. 13, the only jumper to clear 100 meters in both jumps.
Takanashi says she looks up to Hendrickson. This is not surprising given the Japanese turned 17 in October and is 4 feet, 11 inches.
One of Japan's best men's jumpers is almost a foot taller. He's also 24 years older.
Noriaki Kasai is entering his 23rd season on the World Cup tour. He's a six-time Olympian and likely to make his seventh Games considering he was Japan's No. 2 jumper last year, 24th overall. The Olympic field will include 70 men at a maximum of five per country.
He's best known for being part of the Japanese team that won silver at Lillehammer 1994. That team was in line for a possible gold until anchor jumper Masahiko "Happy" Harada mistimed his final jump, soaring about 30 meters shorter than his first jump. Norway took gold.
Japan famously redeemed in Nagano in 1998, but Kasai, who finished seventh on the normal hill individually, was not picked for the team.
Kasai joked in February he would like to compete for another 10 years, according to Deutsche Presse-Agentur.
U.S. skier tore ACL, competed at Olympics 2 weeks later