Lindsey Vonn may be on the mend, but several other U.S. Olympic medal contenders are among the skiers in action at (mostly) speed events the next two weeks.
The men's and women's World Cup tours make their only North American stops this weekend and again from Dec. 6-8 at Beaver Creek, Colo., and Lake Louise, Alberta.
The women race at Beaver Creek this weekend (downhill Friday, super-G Saturday, giant slalom Sunday) and the men at Lake Louise (downhill Saturday, super-G Sunday).
They flip next weekend, the men at Beaver Creek and the women at Lake Louise.
Here's the TV schedule for the women at Beaver Creek this weekend:
Friday: Downhill, 12:30-2 p.m. ET, NBCSN
Saturday: Super-G, 12:30-2 p.m. ET, NBCSN
Sunday: Giant Slalom, 2:30-4 p.m. ET, NBC
They will also be streamed on NBC Live Extra. Universal Sports will have coverage of the men in Lake Louise.
Here are storylines to watch the next two weekends:
1. American women's depth in speed events
The U.S. will likely have a dilemma come Sochi, with or without Vonn. Americans took up six of the top 16 spots in the World Cup downhill standings last season. A nation may enter no more than four skiers in a given Olympic event.
That's what makes every World Cup downhill race over the next two months (and Olympic training runs in Sochi) so important. Two women with World Cup podium credentials will not ski the Sochi Olympic downhill.
World Cup results and form will largely determine the makeup of the U.S. Olympic Team, but the U.S. can bring more than four skiers to Sochi and then decide who starts after training runs.
Here are the contenders:
Lindsey Vonn — 2010 Olympic champion out with a partially torn ACL who returned to skiing Thursday and may compete in Lake Louise.
Julia Mancuso — 2010 Olympic silver medalist, who is a stronger contender in the super-G.
Stacey Cook — Fourth in World Cup downhill standings last season; fastest training run at Beaver Creek on Wednesday.
Alice McKennis — Won a World Cup downhill in Austria in January, broke right leg in February; not ready to compete yet.
Leanne Smith — Made two World Cup downhill podiums last season.
Laurenne Ross — Made one World Cup downhill podium last season.
Mancuso, Cook, Smith and Ross are slated for the Beaver Creek downhill on Friday, and it would seem the super-G on Saturday. Next week, there are two downhills and one super-G in Lake Louise.
If three or fewer American women earn top-three finishes in any World Cup race, they qualify for the Olympics. If four earn top-three finishes, tiebreakers enter the equation.
Regardless, there is room for discretionary selections, which opens the door for Vonn or McKennis to be placed on the Olympic Team even if they don't race any World Cups.
"One of the best traits of our team is everyone has the understanding that if you get beat out for that spot, it's not somebody else's fault," Cook said, according to The Associated Press. "It's probably something you did or your own fault in some way. There's not a lot of the blame game that you might see typically."
The Americans will go up against international favorites German Maria Hoefl-Riesch, Slovenian Tina Maze and Swiss Lara Gut in Beaver Creek.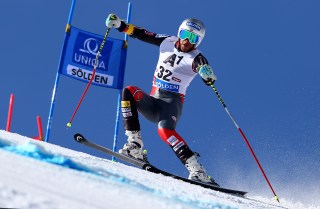 2. The return of Bode Miller
The five-time Olympic medalist is set for his first World Cup speed races since February 2012 in Lake Louise this weekend.
Miller, 36, missed all of last season after knee surgery. He opened this season with a 19th-place in a giant slalom in Soelden, Austria, but the downhill is his best event.
Lake Louise will provide a better look at how much rust Miller has worked off and how he stacks up to the world's best, including Norwegian Aksel Lund Svindal.
Another American, Ted Ligety, has said he will not race the downhill in Sochi. In February, Ligety became the first man to win three gold medals at a World Championships in 45 years.

Ligety also said he values the World Cup overall title over an Olympic gold medal. He's already won an Olympic gold (2006 combined) but has never taken the World Cup overall. That in mind, expect Ligety to ski the super-G in Lake Louise in Sunday.
3. Mikaela Shiffrin in giant slalom
Ski fans are well area of the Vail teen's strength in slalom, but she focused on giant slalom training in the offseason to become a multiple-medal threat in Sochi.
Shiffrin, who won the first slalom of the season in Levi, Finland, on Nov. 16, also placed a career-best sixth in the season-opening giant slalom in Soelden on Oct. 26.
She's expected to compete in the giant slalom in Beaver Creek on Sunday, her only race over the next two weeks. Shiffrin posted the Instagram photo below of super-G skis last week, but the U.S. Ski Team said she's only competing in giant slalom.
You have to wonder how long Shiffrin waits before giving speed events a shot, and if her results in giant slaloms will determine when she decides to try a super-G, downhill or combined.
Shiffrin strapped on downhill skis for the first time in her life in April and owns one downhill start to her name, at the Russian National Championships in February, according to the International Ski Federation.
Video: Lindsey Vonn talks crash, comeback on TODAY