This will be the most scrutinized U.S. bobsled and skeleton season ever given Steve Holcomb is the defending Olympic champion, Elana Meyers, Noelle Pikus-Pace and Katie Uhlaender are gold-medal threats and a certain hurdler is trying to make her first Winter Olympic team.
The U.S. Olympic Team will be determined largely on World Cup season results through Jan. 19. The top pilots and sliders based on FIBT Rankings will go to Sochi, as well as discretionary selections made after Jan. 19.
The U.S. is expected to qualify the maximum quota of three bobsleds in every event (two-man, four-man, two-woman), but skeleton will be tougher. The U.S. would have qualified two of the maximum three skeleton sliders if based solely on 2012-13 rankings.
Here's the World Cup/Olympic schedule:
Calgary, Alberta — Nov. 29-30
Park City, Utah — Dec. 6-7
Lake Placid, N.Y. — Dec. 13-15
Winterberg, Germany — Jan. 3-5
St. Moritz, Switzerland — Jan. 10-12
Igls, Austria — Jan. 17-19
Koenigssee, Germany — Jan. 24-26
Olympics — Feb. 13-23
Here are three storylines going into the Olympic season:
1. Can Steve Holcomb repeat?
Holcomb drove the Night Train to an Olympic title in 2010, ending a 62-year gold-medal drought for U.S. men's bobsled. Winning in Sochi will be harder.
"There's a number of new drivers that weren't around in Vancouver [in 2010] or weren't competitive," Holcomb said. "You're going to have three very fast Russian teams, where in Vancouver there was only one. You've got two Canadians that are really fast. You've got a Latvian, who was brand new in Vancouver, that wasn't really that good. And he's good now."
And then there's the venue. Experience on a track is key for a pilot, which is why Holcomb's best results have come on North American ice. He swept the two- and four-man World Championships in Lake Placid in 2012. He was fourth and third in the two- and four-man World Championships in St. Moritz, Switzerland, in 2013.
Holcomb, 33, hasn't won a World Cup or World Championship race on a European track in nearly four years. He was 11th in the two-man and 12th in the four-man at the 2012-13 season finale at the Sochi Olympic track in February.
But the Park City native points to his 13 years of piloting as reason to believe he can pick up the nuances of foreign tracks quickly.
"I'm a lot more comfortable," he said. "These foreign tracks are a lot more familiar."
Compare Holcomb's World Cup results against all German sleds, Russian Aleksandr Zubkov, Canadian Lyndon Rush and Latvian Oskars Melbardis for a gauge on his Olympic medal prospects.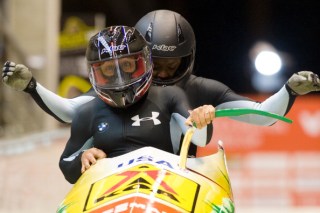 2. Challenges for U.S. women's bobsledders
The most dominant bobsled pilot in the world is Canadian Kaillie Humphries. She's won eight of the last 11 World Cup races dating to the 2011-12 season and is the reigning world and Olympic champion.
That's what 2010 Olympic bronze medalist Elana Meyers is looking up at going into her first Olympics as a pilot. Meyers, a former college softball player, was a push athlete at the 2010 Olympics.
Her transition to driving has been as smooth as the ice she slides on. Meyers won silver behind Humphries at the World Championships in January. She also took silver at the Sochi event in February, beating Humphries but coming in behind 2006 Olympic champion Sandra Kiriasis of Germany.
Meyers teamed with push athlete Katie Eberling at worlds, but Aja Evans, a Big Ten shot put champion, was her partner in Sochi and appears set to reprise the role this season.
Which brings up the question of Lolo Jones, the two-time Olympic hurdler in her second full season as a bobsled push athlete. Jones appears to be third in the American push athlete order, behind Evans and Eberling, at the start of the season.

Jones was the fourth U.S. push athlete at the World Championships, sitting out the individual event in favor of 2010 Olympian Emily Azevedo but coming on for the mixed relay.
Watch how Meyers fares against Humphries leading up to the Olympics, and for which push athletes are used in World Cup races for a sense of the Olympic picture.
3. Puzzling skeleton picture
Start with the men. Latvian Martins Dukurs has won 19 of the last 21 World Cup races, but he is neither the reigning Olympic nor world champion.
The Olympic champion, beer-guzzling Canadian Jon Montgomery, is in doubt to even make his Olympic team. The world champion, Russian Aleksandr Tretiakov, hasn't won a World Cup event in nearly three years.
The top Americans are 2010 Olympian John Daly and Matt Antoine. Daly, who stars in the YouTube series "Your Daly Nitro" with bobsledder Steve Langton, finished fifth at the World Championships in February.
Women's skeleton is even more head-scratching. Don't worry about 2010 Olympic champion, Amy Williams. The Brit is now a rally driver.
The reigning world champion is another Brit, Shelley Rudman. But Rudman was seventh in the World Cup standings last season, finishing above fifth once in nine races one year after winning the World Cup title.
The reigning World Cup champ is German Marion Thees, but she was eighth at the World Championships and fourth at the Sochi season finale.
And then there are the Americans. Katie Uhlaender, 29, won the 2012 World Championship before attempting to make the 2012 U.S. Olympic Team in weightlifting. She returned to skeleton and was the only woman with a combined four first- or second-place World Cup finishes last year.
Noelle Pikus-Pace, 30, is back from retirement and child birth. She was arguably the best slider last season, making the podium five times in six World Cup races (skipping the other three) and winning silver at worlds, six years after her world championship.
Even if early World Cup results provide clear rankings, it will be tough to confidently predict Olympic champions.
Olympic sprinter retires, would likely consider bobsledding if asked