This story has been updated after it was announced Noelle Pikus-Pace was disqualified one hour after finishing first in Calgary, Alberta. 
American Noelle Pikus-Pace was disqualified after winning the first skeleton event of the World Cup campaign in Calgary, Alberta, on Friday.
Pikus-Pace, who retired and had a baby boy after finishing fourth at the 2010 Olympics, came from behind after the first of two runs to beat Brit Lizzy Yarnold in 1 minute, 54.88 seconds.
The British protested Pikus-Pace's result, and the U.S. Bobsled and Skeleton Federation (USBSF) appealed. At the 2010 Olympics, British slider Amy Williams kept her gold medal after protests from nations including the U.S. The aerodynamics of Williams' helmet were questioned, but the FIBT denied the protests.
A Bobsleigh Canada official said Pikus-Pace's disqualification was due to an illegal sled.
This was posted on Pikus-Pace's Facebook page Friday night:
"My heart is broken. I just won gold in the first world cup and have been disqualified due to a protest from the British team. My sled was cleared by the international federation for competition but without a warning they disqualified me for having 3 pieces of tape on my handle to help me push my sled, which many athletes do. So so sad and disappointed that thousands of hours of training come down to a protest and decision for 3 pieces of non performance enhancing tape. I would have obviously removed it if they had told me in my sled inspection that it was wrong in any way. Thank you all for your love and support!"
U.S. assistant coach and 2010 Olympian Zach Lund said Pikus-Pace's sled passed inspection early in the week, and there were no changes made to the sled between inspection and the race, according to USBSF. The tape was the size of a nickel, on the handle of her sled, he said.
"It's a travesty," Lund said. "There's no competitive advantage, and we are really disappointed."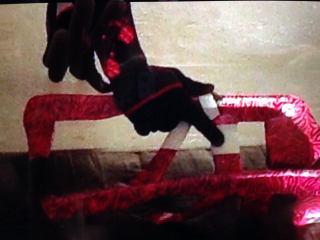 Russian Yelena Nikitina was third, and American Katie Uhlaender was 13th.
Pikus-Pace was .04 of a second behind after the opening run, but her 57.25 in the second run was .16 faster than anybody else Friday.
"I could feel the speed," Pikus-Pace said. "My head got sucked down … so I knew it was fast coming out of there. I just didn't know how fast it was."
Before her DQ, it appeared Pikus-Pace made the podium in a sixth straight international race, including a silver at the World Championships last season, her first season competing since the Vancouver Olympics.
Latvian Martins Dukurs won the men's race in 1:51.39, .75 of a second ahead of Russian world champion Aleksander Tretiakov. Dukurs is the reigning World Cup champion and set a track record in his second run. Tretiakov, the "Russian rocket," set a track start record.
Americans Matthew Antoine and John Daly were seventh and 16th, respectively. Kyle Tress was 22nd and did not qualify for the second run. Antoine fell from fourth after the first run.
"It's frustrating," Antoine said, according to the U.S. Bobsled and Skeleton Federation. "I showed all week in training that I was in contention.  I was right there in the first run, so to have it fall away to something out of my control was disappointing. I know I'm sliding well and confident in my ability. I know it's not the first race that matters this season; everyone is looking at building towards the last race in Sochi."
The skeleton World Cup season continues in Park City, Utah, next week.
Calgary Skeleton
Women
1. Lizzy Yarnold (GBR) 1:55.04
2. Yelena Nikitina (RUS) 1:55.28
3. Michelle Steele (AUS) 1:55.30
13. Katie Uhlaender (USA) 1:56.46
DQ. Noelle Pikus-Pace (USA)
Men
1. Martins Dukurs (LAT) 1:51.39
2. Aleksander Tretiakov (RUS) 1:52.14
3. Dom Parsons (GBR) 1:52.74
7. Matthew Antoine (USA) 1:53.08
16. John Daly (USA) 1:53.72
22. Kyle Tress (USA) 57.3o
Bobsled/skeleton season storylines