Go out on top? Bill Demong had every reason to Feb. 25, 2010.
The Vermontville, N.Y., native had won the first U.S. Olympic gold medal in Nordic combined, capping a bountiful Games for the team, successfully proposed to his girlfriend and was named the Closing Ceremony flagbearer. All on the same day.
His post-Olympic spoils would include throwing out the first pitch at a Mets game (perhaps not so prized in recent seasons), meeting President Barack Obama and renovating his Park City home with his wife, Katie. He took up cycling and enjoyed the gold-medal life.
Demong earned a break after about 15 years cultivating the U.S. Nordic combined program, along with Johnny Spillane and Todd Lodwick. Enough "What is Nordic combined?" questions. Enough cash-strapped European adventures, like crashing at a German mental institution for $14 a night.
But he felt compelled to come back.
"I really didn't think our program was at a point where they could afford to lose all its best guys at once," said Demong, who famously fractured his skull diving head-first into a shallow swimming pool in 2002. "I really felt I needed to stay on as a measuring stick, as a mentor."
Demong (an Olympian since 1998), Spillane (since 2002) and Lodwick (since 1994) all stayed on, but the road the last three seasons has not been paved with gold.
Americans won zero medals at the 2011 World Championships and made a total of four podium appearances over more than 50 World Cup races the last three seasons.
Spillane tore an ACL and MCL jumping off a cliff into a lake five months after the Vancouver Olympics. He retired in April.
Lodwick battled asthma issues. He's now 37 and hoping to make an American record sixth Winter Olympic team.
A new-and-old U.S. team hopes to regain that 2010 Olympic form the next two months. It began this weekend at the first World Cup event in Finland.
Financial issues remain, but these guys are having fun.
Demong and one of the team's emerging stars, Taylor Fletcher, engaged in playful bets the last two seasons. They resulted in Fletcher wearing a Captain America suit and Demong dressing as Aquaman in Europe.
"It's a good punishment," Demong said. "That kind of attitude and those antics keep us fresh, light, motivated. You don't want to be the guy wearing the costume for two weeks."
On Feb. 24, the U.S. won its first World Championships medal since 2009, a bronze in a team event. They were powered by stars-and-stripes mustaches.
Demong's favorite training partner — Scout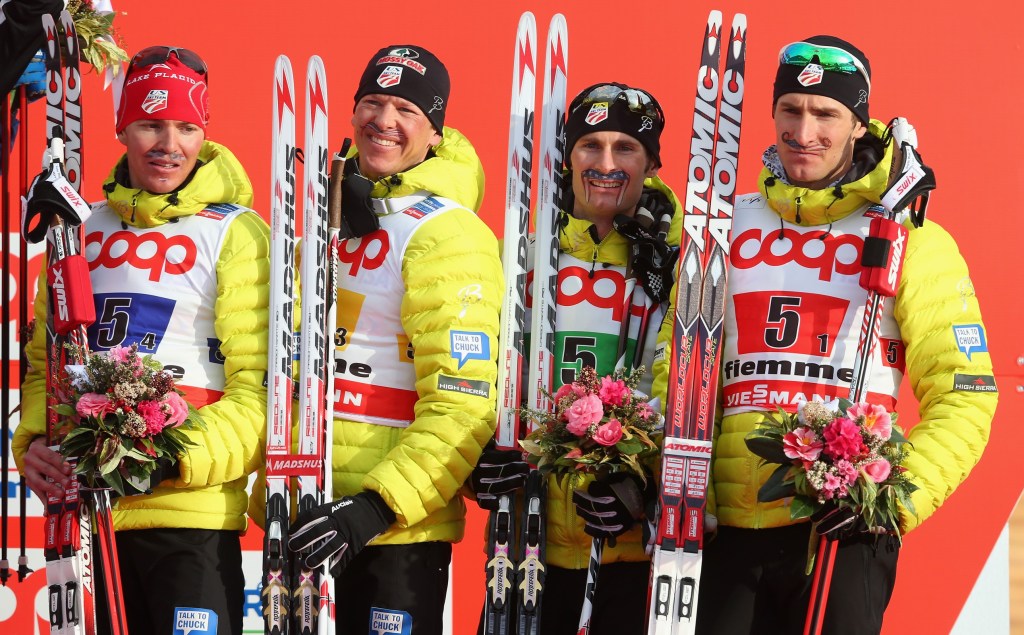 But what about Demong? He's yet to work his way back into Olympic medal favorite form with one individual World Cup podium finish since Vancouver and 15th- and 23rd-place finishes at the World Championships in February.
The confidence is still there, though.
"The thing that tipped me toward coming back is I'm really now at my peak physical age," Demong, 33, said. "I definitely feel like I'm coming back as a contender."
Perhaps the greater threats are the Fletcher brothers, Bryan and Taylor. They've steadily moved up the World Cup ladder (bettering Demong and Lodwick last year) and, in their mid-20s, can carry U.S. Nordic combined after Sochi.
"Now, I can comfortably walk away and know that we've successfully passed the baton," Demong said.
Cross-country season storylines