The late sprinter Ronnie Ray Smith received a memorial service befitting his Olympic champion status.
The service for Smith, a member of the gold-medal winning U.S. 4x100m relay team at the 1968 Mexico City Olympics, will be featured on TLC's "Best Funeral Ever" on Monday night
Here's why: A casket was rolled over a finish line and propped up on a podium, as reported by the New York Post. Then, loved ones participated in a black-gloved salute like that of Smith's Olympic teammates, Tommie Smith and John Carlos.
Ronnie Ray Smith died on March 31 in a Los Angeles hospice at age 64.
Here are more photos from TLC of the memorial service: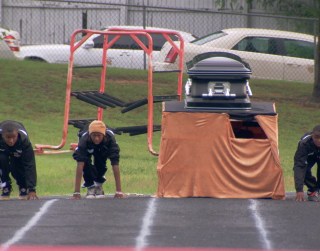 Video: Usain Bolt vs. virtual cheetah