As promised, Ron Burgundy rocked the curling world Sunday.
The anchorman took a break from the KVWN Channel 4 News team to join TSN's coverage of Roar of the Rings, which are Canada's Olympic Curling Trials.
Before taking the mic, he received a curling lesson from world champion Glenn Howard and held a news conference.
"The limo ride from the hotel to the arena was first class all the way," Burgundy said, referring to Winnipeg as the "Paris of Canada." "They had roast pig — an entire roasted pig — in there in the limo suckling."
Burgundy also said he's versed in curling terms such as "hurry hard."
"I use it when someone's in my way," he said. "Usually when I'm struck In traffic, I'll just yell 'hurry hard' to the car in front of me. … Sometimes if I'm on a crowded flight somewhere and someone's messing with their overhead bags, I'll say, 'Right off it!' So, I use those terms probably 10 times a day in my personal life."
He called curling "the sport of kings" and even said his news station used to air a curling segment.
"No one watched it," Burgundy said. "In fact, viewership plummeted 33 percent during those times. But I stuck with it. I told our producers we've got to stick with curling. It's the future."
The Canadian Olympic Curling Trials run all week with 16 teams vying for Sochi berths.
Here's video of Burgundy's news conference:
Here are photos of Burgundy in action: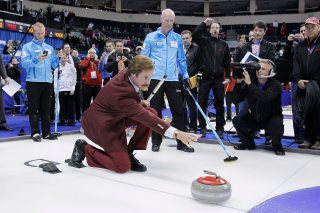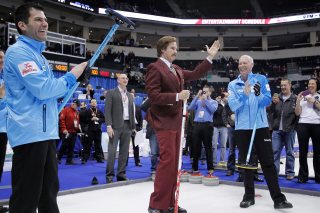 Burgundy made the front page of all three daily Winnipeg newspapers on Monday: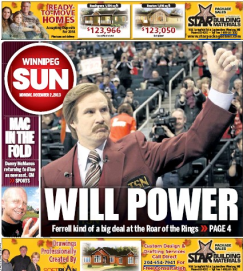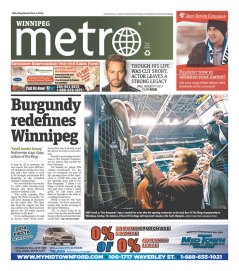 Island home to Olympic curling stones, seeks buyer