The biggest international event from now until the Olympics is missing three active Olympic champions, but it will still provide a strong look at Sochi medal prospects.
The Grand Prix Final takes the top six from each discipline over six qualifying events, which began with Skate America in October. If the Olympics are the most prized figure skating competition, the Grand Prix Final is the most elite.
Universal Sports will have TV coverage beginning Thursday. NBC will have coverage from noon-2 p.m. ET on Sunday.
This year's event is in Fukuoka, Japan, which is 14 hours ahead of Eastern time.
Here's the schedule:
Thursday
Men's short program — 4:40 a.m. ET
Women's short program — 5:50 a.m. ET
Friday
Pairs short program — 3 a.m. ET
Short dance — 4:15 a.m. ET
Men's free skate — 5:30 a.m. ET
Saturday
Pairs free skate — 2:15 a.m. ET
Free dance — 3:50 a.m. ET
Women's free skate — 5:20 a.m. ET
Here's a preview of each discipline:
Men
Qualifiers: Patrick Chan, Tatsuki Machida, Yuzuru Hanyu, Maksim Kovtun, Daisuke Takahashi (withdrew), Yan Han, Nobunari Oda (replacement)
The three-time reigning world champion Chan solidified his Olympic favorite status by winning both of his qualifying events — Skate Canada, Trophee Bompard — including a total score of 295.27 in Paris. Nobody else came within 25 points of that mark in any qualifying event.
Machida surprised in winning the opening Skate America and joining a crowded field of Japanese men seeking one of three Olympic spots.
Machida, the 2010 world champion Takahashi (out with leg injury), the 2012 world bronze medalist Hanyu and Oda all have Sochi medal potential. At least one of them will not make it to the Games, though.
Kovtun, too, is unlikely to be Russia's lone men's singles Olympic entrant with three-time Olympic medalist Yevgeny Plushenko in the picture (but not in the Fukuoka field).
It would be a surprise to see anybody other than Chan prevail in Fukuoka. The Canadian seeks his third Grand Prix Final title in the last four years. He was upset by Takahashi in 2012 at the Sochi Olympic venue.
"The Grand Prix final is going to be a challenge," said Chan, according to Agence France-Presse. "The Japanese will have the definite [home] advantage."
Women
Qualifiers: Mao Asada, Yulia Lipnitskaya, Ashley Wagner, Anna Pogorilaya, Adelina Sotnikova, Yelena Radyonova
Like Chan, Asada was in a class of her own at her two qualifying events. The 2010 Olympic silver medalist scored 204.55 and 207.59  in winning Skate America and NHK Trophy. Nobody else topped 200 points this season.
"Everything has been going well this season so I believe I can go higher still," Asada said, according to AFP.
Two-thirds of the Grand Prix Final field is Russian, but only two Russians will make it to the Olympics. Radyonova, 14, will not be one of them because of age rules.
The two-time reigning U.S. champion Wagner is in the Grand Prix Final for the second straight year. She's a definite Sochi medal threat and will look to close the gap on Asada, who beat Wagner by 15 points at last year's Grand Prix Final and by 11 points at Skate America in October.
The results here won't paint a clear Olympic picture though. One must be mindful of reigning Olympic and world champion Yuna Kim making her season debut in Zagreb, Croatia, this week.
Pairs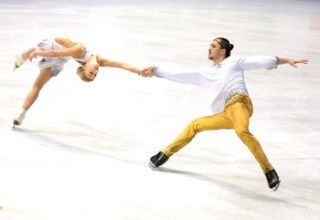 Qualifiers: Tatyana Volosozhar/Maksim Trankov, Aliona Savchenko/Robin Szolkowy, Pang Qing/Tong Jian, Kirsten Moore-Towers/Dylan Moscovitch, Meagan Duhamel/Eric Radford, Pang Cheng/Zhang Hao
The Russians Volosozhar and Trankov are the reigning world, European and Grand Prix Final champions.
They achieved the highest pairs scores in history this season — and then went even higher — and haven't finished lower than first since the 2011 Grand Prix Final.
It's unlikely anybody will break that streak in Fukuoka, so just sit back and enjoy Trankov's yellow pants.
Savchenko and Szolkowy are favorites for silver, the same medal they won at worlds and Europeans behind the Russians last season. The Germans are four-time world champions, all coming before Trankov and Volosozhar rose to the zenith of the sport.
The remaining Chinese and Canadian pairs are all Olympic medal contenders but obviously without the accolades of the Russians and Germans.
Ice Dance
Qualifiers: Meryl Davis/Charlie White, Tessa Virtue/Scott Moir, Yekaterina Bobrova/Dmitry Soloviyev, Nathalie Pechalat/Fabian Bourzat, Kaitlyn Weaver/Andrew Poje, Anna Cappellini/Luca Lanotte
Davis and White are the reigning world champions. Virtue and Moir are the reigning Olympic champions. They are rivals, yes, but training partners, too. They will face off in competition for the first (and only) time this season before the Sochi Games.
What should we expect?
Davis and White to prevail, just as they have at the last four Grand Prix Finals. The Americans scored 188.23 and 186.65 in their two qualifying events, bettering the Canadians' 181.03 and 180.96.
The gap between Davis and White and Virtue and Moir appears to be growing. The Americans won by a margin of 3.56 at last year's Grand Prix Final in December, then 3.04 points at the Four Continents Championships in February and 4.52 at the World Championships in March.
Bronze is up for grabs among the Russians, French, Canadians and Italians.