Greg Bretz crossed his fingers at the end of a 600-foot halfpipe and watched Shaun White take his final run, expecting White to do what he always does.
White didn't.
Bretz upset the two-time reigning Olympic halfpipe champion in the first of five Olympic selection events in Breckenridge, Colo., on Saturday. Bretz, who was 12th at the 2010 Olympics, won the Dew Tour iON Mountain Championships with a first-run score of 91.40.
"I'm ecstatic right now," Bretz, 22, said on NBC. "I don't know what to say. Olympics, here I come."
Actually, Bretz has not qualified for the Olympics yet.
Breckenridge marks the first of five Olympic selection events for freeskiing and snowboarding. The others are on the U.S. Grand Prix schedule — Copper Mountain, Colo., next weekend, followed by Northstar, Calif., Park City, Utah, and Mammoth Mountain, Calif.
The five events will determine Olympians in snowboard halfpipe and the new Olympic events of snowboard slopestyle and ski halfpipe and ski slopestyle. The Olympic rosters are expected to be announced Jan. 22.
The overall Olympic qualification standings will be determined by the two best results for an athlete over the selection events. No more than four athletes can make the U.S. Olympic Team per event. It's possible fewer than four will be named for some events.
13-year-old makes podium in women's halfpipe
Bretz's first run was the best out of a 16-rider field. White, the top qualifier, was the last man on the world's largest halfpipe for both runs. After uncharacteristically crashing in his first run, White put down a solid but not spectacular second run.
Both he and Bretz waited, and waited, and waited for White's score to come down. White just missed, getting a 90.40 to grab second place. Another American, Taylor Gold, was third with 89.60.
"My first hit I think was a little squirrely," White said on NBC. "I think that's what maybe cost me the win."
White stood in 11th place after his first run, when he under-rotated a backside double McTwist 1260 and fell to the snow at the bottom of the 600-foot long, 22-foot high halfpipe. That run scored a 37.40.
"I just kind of, I half-assed it is the technical term," White said, according to USA Today. "I was killing my run out. I was like, 'Wow, I'm really doing it.' And I kind of got in my head and just forgot what I was doing. I didn't take off with enough momentum off the lip and it just came around too slow. It happens."
White, who spent time this fall on a special training area in Australia, didn't pull out all of his best tricks in either run.
"I did some tricks in practice that I think only one guy has done before so I am pretty excited," he told the newspaper.
White gave his second-place trophy to 11-year-old Connor Tripp.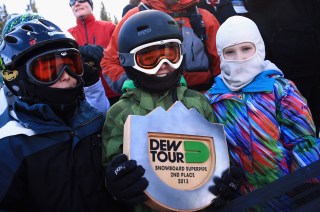 White will compete in the slopestyle final Sunday. He was the top qualifier. He told reporters he tweaked an ankle in his Saturday crash and would ice it before riding Sunday.
There were some surprises in the halfpipe final. 2010 Olympic bronze medalist Scotty Lago took 11th, putting him behind in the race for an Olympic berth.
Top international stars Ayumu Hirano and Iouri Podladtchikov were sixth and 13th, respectively.
Bretz's second run was also uninspiring. He fell on his butt, slowly slid to the end of the pipe and dropped to the snow.
"I was super amped," Bretz said on NBC. "I just didn't throw it properly. I'm fine. I've been working out a lot this summer just for that reason. It helps out."
The Breckenridge action can be live streamed here all weekend.
Breckenridge Men's Snowboard Halfpipe
1. Greg Bretz (USA) 91.40
2. Shaun White (USA) 90.40
3. Taylor Gold (USA) 89.60
Star U.S. freeskier's Olympic hopes in doubt