It took more than 20 sketches and 30 enhancements before the Sochi Olympic and Paralympic hockey puck designs were chosen.
Games organizers, including Russian hockey president and legendary goaltender Vladislav Tretiak, unveiled the officials pucks at the Sochi Olympic hockey gold-medal game venue Saturday.
"You have to make friends with the pucks — it's the main piece of equipment for hockey," Tretiak said, according to R-Sport. "They're very beautiful pucks with our national ornamentation."
On one side, the pucks incorporate the Sochi 2014 patchwork quilt design with sky blue or purple tones, depending on which arena the game is being played. The other side is black and white with Olympic rings and the inscription "XXII Olympic Winter Games, Sochi 2014" in English.
By tradition, all pucks used in the matches for Olympic bronze and gold will be sent to the Hockey Hall of Fame in Toronto.
Up to 80 pucks are needed for one game, according to Games organizers. The pucks from the gold- and bronze-medal games will be sent to the Hockey Hall of Fame in Toronto.
Here are what the 2010 Olympic hockey pucks looked like: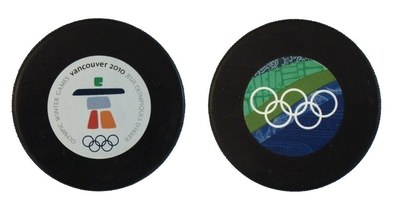 Video: U.S.-Canada women's hockey brawl