The atmosphere will be unfamiliar at the U.S. Olympic Short Track Speed Skating Trials beginning Thursday in Kearns, Utah.
The retirements last year of Apolo Ohno and Katherine Reutter, the most decorated U.S. skaters this century, left a void for not only new Olympians but also new stars.
Here's the Olympic Trials schedule (all times Eastern):
Thursday — Men's and women's four- and nine-lap time trials, 3:30 p.m.
Friday — Men's/Women's 1500m, 5:30 p.m. (NBCSN,  8-10 p.m.)
Saturday — Men's/Women's 500m, 12 p.m. (NBCSN, 4-5:30 p.m.)
Sunday — Men's/Women's 1000m, 12 p.m. (NBC, 4-6 p.m.)
The U.S. men and women earned Olympic quota spots via World Cup results this season. The men earned the maximum allotment of five total skaters with three entries in each distance.
The women did not qualify the maximum allotment — failing to qualify an Olympic relay team for the first time — and will send its smallest team, three, since the sport was added to the Olympic program in 1992. The U.S. can enter three women in the Olympic 500m and 1500m and two in the 1000m.
The Olympic team selection process is not as simple as taking the top finishers from every distance. Skaters will be ranked by distance and in an overall standing via the following points system: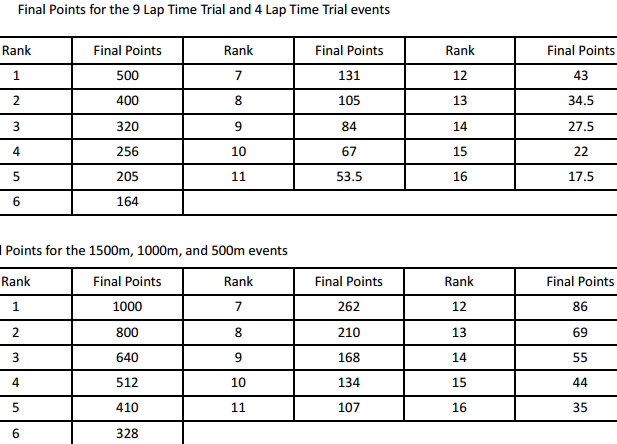 Skaters' four-lap time trial points are added to their points from two 500m races. Skaters' nine-lap time trial points are added to their points from the 1000m and 1500m races for standings in those separate events. A time trial is worth 20 percent of a skater's ranking per distance. Each result in a race is worth 40 percent.
The top-ranked skater in every distance will make the Olympic team. That could be one skater per gender (if he or she sweeps every distance), two skaters or three skaters (if a different skater wins each distance).
After that, if there are Olympic roster spots still available (there definitely will be for men), the second-ranked skater in every distance will make the Olympic team. If adding all of the second-ranked skaters exceeds the maximum Olympic roster size, priority would go to a skater who finished second in two of the three distances.
If that didn't happen, the tiebreaker is a skater's overall distance ranking, adding up points from both time trials and all three distances.
If there are Olympic roster spots still available after taking the top two skaters from every distance, the Olympic team will be filled by the top skaters remaining in the overall distance ranking.
Men's Outlook
In the absence of Ohno and Reutter, one skater comes into trials already owning an individual Olympic medal. That would be J.R. Celski, who came back from a crash at the 2010 Olympic Trials to win two bronze medals in Vancouver.
On the last day of those trials (September 2009), Celski's right skate drove into his left thigh, slicing it to the point he could see his femur and one inch from his femoral artery. Celski needed 60 stitches but said he was pain free six weeks later.
Celski took a full season off after Vancouver, collaborating with Macklemore and others for a film project, and came back faster than ever. In October 2012, he became the first man to break the 40-second barrier in the 500m.
He is clearly the best hope for a medal in Sochi, having made the podium in two of three races at the most recent World Cup event in Kolomna, Russia, in November.
Two other 2010 Olympians join Celski at trials — Travis Jayner and Jordan Malone. Ohno will be there, too, as an analyst for NBC and NBCSN.
The fifth member of the Vancouver team, Simon Cho, will not be competing. Cho was suspended through the Sochi Olympics for tampering with a Canadian's skate blade in 2011. Cho's admission came in 2012 and also involved US Speedskating coaches since let go. It created a schism among skaters, an issue still making headlines.
Back on the ice, Celski's greatest competition will likely come from potential Olympic rookies. John-Henry Krueger, 18, and Eddy Alvarez, 23, also won World Cup medals this season.
Krueger, the son of a figure skating coach, was a three-time medalist at the 2012 World Junior Championships. Alvarez, of Miami, is the Spanish-speaking son of Cuban immigrants.
Women's Outlook
Not qualifying a relay team cut the Olympic women's roster from five to three, putting more pressure on a group that hasn't won a World Cup medal since February 2012.
Jessica Smith, an alternate for the 2010 Olympic team, is now the leader. She's the top U.S. skater in World Cup rankings for the 500m (21st overall) and 1500m (13th) and second in the 1000m (24th).
Emily Scott is ranked 15th in the 1000m and also a contender to make her first Olympic team.
Of the 2010 Olympians, Alyson Dudek and Lana Gehring were in the best form at the U.S. Championships in August.
WADA could introduce hair tests for doping