When I saw this tweet, I had to ask some questions:
Yes, it is true. U.S. goalie Jessie Vetter will have gold on her helmet in Sochi.
Vetter, 28, is a candidate to start for the U.S. She started the 2010 Olympic gold-medal game and the 2013 World Championships gold-medal game.
"Around the edge of the 'USA' gold I used 23 karat gold leafing," designer Ron Slater of Slater Lettering and Graphics said in an email. "Similar to what you would see on old school firetrucks as the lettering."
Slater has been painting for Vetter since she was a freshman at Wisconsin in 2005-06. They tossed ideas back and forth over the summer. Slater drew a sketch and got the thumbs-up in September.
Until now, Vetter has been wearing a mask that Slater designed for her two years ago. The new mask was shipping to Vetter on Monday.
You have to wonder what rival Canada, the three-time reigning Olympic champ, will make of this, given nobody on the U.S. team owns Olympic gold.
Here are more photos of the new mask design via Slater: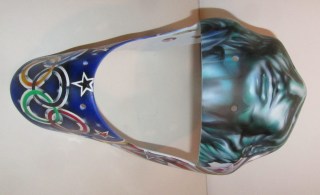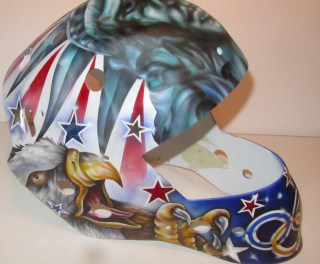 Siberian man runs marathon in minus-36 degrees