It's been 20 years since an assault on Nancy Kerrigan plotted by Tonya Harding's ex-husband threw figure skating into not only the front of American sports, but also worldwide news.
On Jan. 6, 1994, Kerrigan was clubbed on the right leg by a hitman hired by Harding's ex-husband, Jeff Gillooly, in Detroit, where she was preparing for the U.S. Figure Skating Championships.

Kerrigan's bruised right knee kept her from competing, but she recovered in time for the Lillehammer 1994 Olympics. Tonya Harding won the U.S. Championship in her absence, so both went to the Olympics.
Tonya and Nancy became a media soap opera in Lillehammer with Super Bowl-like TV ratings. Kerrigan won silver, just behind Ukrainian Oksana Baiul. Harding broke a skate lace in her long program, reskated and finished eighth.
Both have addressed the issue leading up to Monday's anniversary.
"Watching anything sort of horrific, it's disturbing to see anybody in pain," Kerrigan said on TODAY in August. "To think it's me … it's a lifetime ago. It hurts to see anybody in such pain. It's a long time ago. I just moved on."
NBC will air a documentary on Kerrigan and Harding, with Mary Carillo interviewing both, during the Sochi Olympics in February.
"It was 20 years ago, and I don't remember lots and lots of it," Harding told USA Today. "I know it was a horrible time for everyone involved. It was a bad streak, going through all the crud, and I was able to rise above it. I think Nancy and I have good lives now."
Here was the Sports Illustrated cover from after the attack: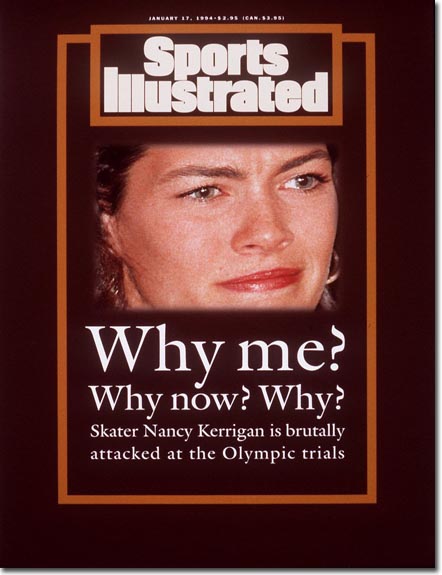 Here's the front page of the Oregonian, Harding's hometown paper, on Monday:
Yuna Kim splashed on South Korean newspaper front pages