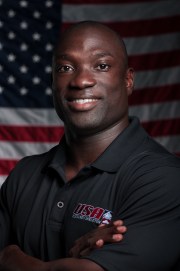 Abraham Morlu summarized four sports careers over three continents and the possibility of a second Olympics appearance into a 90-minute phone conversation.
Then, he added a postscript.
"I'm not a great storyteller," Morlu said.
That's a shame, because the quiet bobsledder has quite a story to tell.
Morlu, 32, wants to become the first of his kind, an Olympian to compete in a Summer Games for one country and a Winter Games for a distinctly different country,* Olympic historians believe.
His chances looked great to start the bobsled season in the fall. He was part of U.S. driver Nick Cunningham's four-man crew at the first three World Cup stops.
His odds since declined.
He joined Cunningham in the two-man last week but not the four-man. He's not in either the two- or four-man lineups for the final World Cup before the U.S. Olympic Team is named this weekend.
Still, it's remarkable he's gotten this far.
Morlu pushed for the red and white of Switzerland one year ago. He sprinted for the West African nation of Liberia as recently as 2010 and as far back as the Sydney 2000 Olympics.
He's tried professional football and, in spare time between international summer and winter sports, enjoyed stunt motorcycle riding as an escape.
"I remember back when I first decided to do Olympic sports," Morlu said. "I wanted to do it [the Olympics] twice. The first time to soak it all in; I can't believe I'm here. The second time to win a medal. My goal in life was to be a two-time Olympian."
Morlu was born in Liberia in 1981, the second of four children, and lived in the Guinean border town of Yekepa until age 7.
Liberia was founded by freed American and Caribbean slaves in the first half of the 19th century but mostly inhabited by native Africans. It is home to some four million people, roughly the population of Los Angeles, and is about the size of Ohio.
In 1980, a military coup overthrew and killed president William Tolbert. Violence erupted in 1989 with the onset of the first of two civil wars that claimed 150,000 lives and led to the election of Charles Taylor as president in 1997.
Morlu escaped one year before the civil war. He arrived in the U.S. with his mother, while his two brothers and father stayed for two or three more years, he said. His father had an influential job with Firestone, his mother said.
From what Morlu remembered, he compared the family's life in Liberia to American suburbs.
"Big house, big yards, best of schools," said Morlu, who attended a Catholic school. "You do remember the stuff you had to go through to get out of there. Not one of my best experiences."
He declined to elaborate but believed, at age 7, that his life was in danger.
"It was so hard leaving your family … leaving your comfort," said his mother, Bettie Caine, who mostly raised the four children herself in the U.S. "Most people see when you leave Africa, everything is the best here [in the U.S.]. Honestly it was not that bad for us [in Liberia]. It was a blessing to get away, but I don't know if we would have survived the war."
They flew to New York City and landed in Virginia for a few months with a family friend. Then Maryland for a few years, staying in the same apartment complex of a friend.
His impressions of the new country?
"It was my first time seeing apartment buildings, people on top of each other," Morlu said. "It was a weird experience, sharing a wall with somebody."
The family moved to Boone, N.C., after his father and two brothers came over. His sister, 11 years younger, was born in the U.S.
Morlu began playing soccer as a high school freshman, but the track and field coach noticed he ran faster than his teammates.
His older brother, Lasana, ran on the 4x400m relay and was unavailable to race one day. So, Morlu was asked to replace him on anchor.
"I didn't even know what the 4×4 was," Morlu said. "I get the stick, and you have to run a whole lap? Yeah sure, I'll run it."
He said he grabbed the stick in second place, passed the runner in front of him and broke a school record on his split.
"I didn't look back," he said.
Morlu continued sprinting through high school and, before he went to run for UNC-Charlotte, realized he had a shot at the Sydney 2000 Olympics.
"A friend of mine attended his meet at Boone," Caine said. "He knew how fast and how good he was. He contacted a Liberian team official. The guy got in touch with me. They decided to use him on the Liberian team."
Morlu had never tried to gain American citizenship, which avoided any red tape to represent his birth country. It was quite feasible, too, given Liberia's lack of track and field depth. It had never won an Olympic medal and was eliminated in the first round of the 1996 Olympic 4x100m.
It again fielded a 4x100m relay team with hopes of qualifying for the 2000 Olympics, all of its runners based in the U.S. They gathered in Indianapolis a few months before the Games and recorded a fast enough time to qualify for Sydney.
"He went in as an alternate," Caine said, "but he was very, very sure that he would make the team, and he became the anchor leg."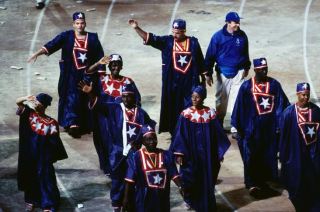 Morlu flew to Sydney during his sophomore year at UNC-Charlotte as part of an eight-member Liberian Olympic athlete delegation – all in track and field.
He was the youngest Liberian at 19.
"I was very proud to represent my country," he said. "I remember in 1996 I saw the [Liberia] guys in the Opening Ceremony [on TV]. One day I definitely want to be the guy there representing my country at the biggest sporting event in the world."
The Liberian 4x100m relay team was eliminated in the first round at Stadium Australia the day after Marion Jones and Cathy Freeman met in the 200m final.
"It was very tough to take because the third leg, or second exchange, was botched," said Morlu, who ran anchor. "We went from leading the heat to falling back to sixth. It was between us and [eventual silver medalist] Brazil. We had just pulled away from them on the second leg."
Morlu enjoyed the experience, though. He made it a goal to meet the sprinters that awed him at the 1996 Atlanta Olympics on TV – Michael Johnson, Donovan Bailey, Frankie Fredericks, Ato Boldon and Linford Christie.
"Frankie Fredericks is one of the coolest ones," Morlu said. "Every chance he got he said something to me. Most people say you don't ever meet your heroes, but meeting those guys was the best."
Morlu returned to UNC-Charlotte, where his track and field coach happened to be 1998 U.S. Olympic bobsledder Robert Olesen.
Morlu, a powerful sprinter, once brought up bobsledding to Olesen, who called him too small for the sport. The topic vanished, and Morlu continued as a professional runner after college.
He never competed at another Summer Olympics, but Morlu spent time as a pupil of now-banned coach Trevor Graham, the former coach of Marion Jones.
"All the drug stuff aside, he was a great coach," said Morlu, who left Graham to return to Charlotte when the drug scandal hit in the mid-2000s. "I just tried to stay away from that [drug talk]. If they get caught, they live with the consequences. I'm not going to feel sorry for them. … I always trusted Trevor."
Asked if he was a witness or part of anything illegal with Graham, Morlu laughed.
"I wasn't that fast," said Morlu, who owns a 10.22-second personal best in the 100m.
Which is why he sought a new game in 2008.
"I had gotten bored," Morlu said. "I was feeling a lot of guys I was competing with getting way under the 10-second barrier. 9.8s, not just 9.9s anymore. I started to get a little discouraged."
But he was proud of his 40-yard dash abilities, so Morlu picked up football for the first time since high school.
He went to Canadian Football League training camps in consecutive summers but never played a down in a game. He also participated in a combine for the proposed All American Football League, where he said former Cincinnati Bengals running back Ickey Woods timed his 40.
In the CFL, Morlu caught camp passes from former Virginia Tech quarterback Bryan Randall and lined up as a slot receiver opposite former Georgia wideout Terrence Edwards before he was cut.
"It was cold," Morlu said of Canada. "As we started doing the team drills together, the one-on-ones, I couldn't stand it. One time we ran 10 plays up and down the field, I caught every single ball going down the field. That kept me in training camp. A defender was tired of getting burned, and he broke my finger. I went to jump and grab a ball, he grabs my hand, hangs onto it, dislocates my finger. My bone was sticking out the skin.
"Toronto wanted me to come back the next year. Did their training camp and saw their playbook. It made no sense. I had never seen a playbook. I'm just like, 'I'm going back to track and field.'"
Morlu spent parts of spring and summer 2009 training in Germany during the European track and field season. It was there his then-agent, Andre Thompson, brought up the possibility of bobsled.
Germany is the all-time Olympic medal leader in bobsled. Thomas Prange, a German track and field athlete turned bobsledder, talked Morlu into joining him in a summer 2009 bobsled event.
They won. So Morlu, no longer a Liberian citizen, appealed to the U.S. Bobsled and Skeleton Federation (USBSF), but through miscommunication and/or a lack of funding, he never got through.
A Swiss bobsledder noticed, pestered him for six months, and he eventually suited up in red and white. International bobsled racing rules allow for athletes to compete for non-native countries in non-Olympic years.
Morlu worked his way up to push for the top Swiss driver, Beat Hefti, in the mixed team event at the 2013 World Championships. They finished fifth. The U.S. took notice.
"We were kind of embarrassed, a little bit, to be honest," USBSF CEO Darrin Steele said. "When we discovered that this is an American athlete competing for Switzerland, we were all looking around. How the heck did this happen? How did we miss this guy?"
Morlu, USBSF and the U.S. Olympic Committee squared away paperwork and he was able to try out for the U.S. over the summer. Morlu earned a spot on Cunningham's four-man sled and has oddly fit in with a group of guys who share an affinity for cowboy boots and country music.
"We have this ongoing joke because one time [Morlu] said he was 'country,'" said teammate Dallas Robinson, also a converted sprinter. "And Nick [Cunningham] and I just looked at each other. [Teammate] Johnny [Quinn] is from Texas. I'm from Kentucky, and, well, Nick's from California, but he rides bulls. So we were like, 'Oh, you're country?' And he was like, 'Yeah, I'm so country … ' and he said something. So we have this ongoing text message where every morning we all wake up, us four, and we send photos of why we are all so country. Abe sent us a photo of oysters two days ago. Like, shelled oysters, and said, 'This is why I'm country.' And I was like, 'What? What does that even mean. I don't think country people even eat oysters.' So then I went out to the farm and took a picture of a cow patty and said, 'This is why I'm country.'"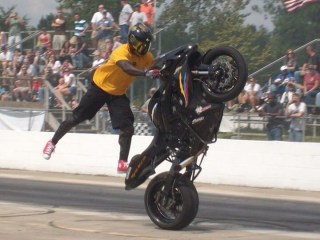 They call Morlu nomadic and a Gypsy. He's certainly unique. Morlu's passion is stunt motorcycle riding.
His signature trick, one that he claims nobody else has ever attempted, is front flipping his motorcycle over two other motorcycles, landing on his feet with his bike landing on a kickstand.
What does USBSF think about that activity?
"I didn't know he was doing the stunt riding until you just told me," Steele said. "In general, we do discourage the riskier activities."
Morlu plans to retire after this season and continue stunt bike riding. His 9-to-5 job had been with Bank of America, but he'd rather use his unique set of experiences and return to track and field in a different capacity.
"What I really want to do is coach at the university level," Morlu said, "put everything I've learned over the years to work."
*There have been Olympians to compete in a Summer Games for East Germany and a Winter Games for Germany, or a Winter for Czechoslovakia and a Summer for the Czech Republic.
Tongan luger set to be nation's first Winter Olympian