At age 55, Hubertus von Hohenlohe knows he doesn't have a snowball's chance in hell of winning a medal in the men's slalom at the Sochi Olympics.
And he's cool with that.
The title he is most interested in claiming is best-dressed at the Games.
RELATED: The most interesting Olympian in world
With that in mind, the Mexican skier, who is also a prince of German descent and an accomplished photographer, is pulling out all of the stops for his sixth, and likely final, trip to the Olympics.
He revealed exclusively to NBC Olympics, that he will wear a mariachi-themed race suit when he skis down the Rosa Khutor. The suit, designed by Kappa, features the trimmings of a black bolero jacket, ruffled tuxedo shirt, red tie and cummerbund, and designs down the legs surrounding the initials "MEX."
RELATED: Hohenlohe aging well on slopes
Below is what the race suit will look like. For more images, click through this slideshow.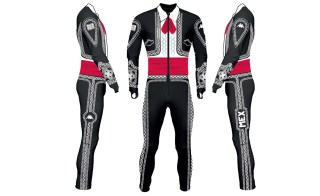 Hohenlohe's penchant for flamboyant uniform designs is well-known. In Vancouver, he wore a "Mexicano desperado" racesuit, complete with bullet straps and pistoleros in the design, and another suit environmentally-themed race suit encouraging people to recycle.
But this time, he said that it was important for him to portray an image of elegance while also celebrating an element of Mexican culture while on the slope.
"Until I went to Mexico recently to make a documentary, I never realized what a beautiful, amazing, rich past and culture they have and what a proud people they are," he said. "It actually moved me to see how much they suffered and how much they fought for what they have. The power to have your own identity is so strong and something I believe in so I want to give it a go in a very cool, elegant way. I want  to celebrate who they are, but of course in my own style."
RELATED: Alpine origins – Hubertus von Hohenlohe
Hohenlohe joked that in Sochi we can call him "the Mariachi Olympic Prince," and added that having one of the three best suits at the Games, "is a medal I need so urgently."
"What are my chances?" he asked.
One might have to consider him the gold medal favorite.