Mexican Alpine skier Hubertus von Hohenlohe has vowed to celebrate the culture of the nation of his birth by wearing a mariachi-themed race suit during the Sochi Olympics.
But now – as he is known to do – he has taken things one step further.
RELATED: The most interesting Olympian in the world
While in Mexico to receive the flag he will carry as the country's lone athlete during the Opening Ceremony next week, Hohenlohe performed with an authentic mariachi band and had them write song titles and lyrics on the race helmet he will wear during the men's slalom competition on Feb. 22.
"It was a great time," Hohenlohe said. "I sang 'El Rey,' ESPN Desportes was there, the Olympic Committee had a crew there, but they came and left too early otherwise we would have had the coolest time ever."
RELATED: Alpine prince with royal sense of style
The 55-year-old prince of German descent will be the second-oldest Winter Olympian in history, and will be representing Mexico for the sixth time. His first Games were in Sarajevo in 1984.
Here are photos from the evening on the plaza, courtesy of Hohenlohe: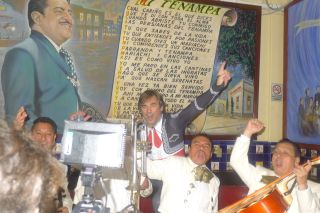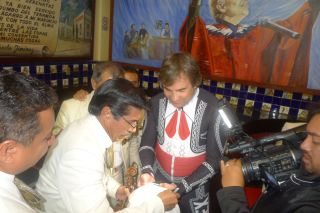 Erin Hamlin gets adorable Olympic sendoff from Remsen Elementary School