Officials have confirmed that the Olympic torch's ascent to the top of Russia's Mount Elbrus, the highest peak in all of Europe, took place in October 2013. The announcement comes as the torch relay moves into Russia's Kabardino-Balkaria region, where the mountain is located.
Back in October, mountain climbers Karina Mezova and Abdul-Khalim Elmezov (who serves as president of a local climbing federation) went up Elbrus' western face with the flame in tow, kept inside a special lantern.
Sochi Olympic organizers said today in a statement that the Elbrus stage of the relay was planned separately from the main torch relay route to "ensure the best possible weather conditions for the climb."
"Today [Saturday] is the official stage of the torch relay to Mount Elbrus, as is down in the calendar," a spokesperson confirmed to AFP. "But the mountaineers went there in October, when the weather conditions were more favorable."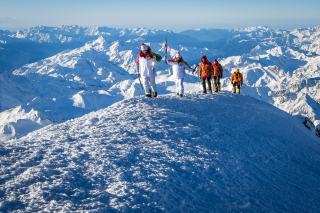 The Elbrus stage of the relay is the last in a series of four special stages that have also seen the torch visit the International Space Station, the North Pole, and Siberia's Lake Baikal, the deepest freshwater lake on Earth.
Highlights from Sochi Olympic torch relay trip around Moscow