UPDATE (9:35 a.m. ET): Officials have confirmed that changes will indeed be made to the Rosa Khutor Extreme Park slopestyle course after top Norwegian snowboarder Torstein Horgmo (pictured) suffered a broken collarbone in a training crash today and was subsequently ruled out of the Olympics.
The New York Times reports that male and female snowboarders proposed those changes in a meeting with officials following the training session. Assistant snowboard race director Roberto Moresi said that the course would be modified ahead of Thursday's qualifications.
Per the Olympic News Service, Horgmo crashed on the rail feature at the top of the course. He was awake and alert according to Norway's team manager, Thomas Harstad, before being taken via ambulance to the athletes' hospital in Krasnaya Polyana.
"It was on the first rail element it happened," team coach Per-Iver Grimsrud said according to Reuters. "He was doing a switch hardway, backside 270. He landed wrong on the rail, and then he fell into the stairs to the side."
Horgmo, 26, the gold medal winner in Big Air at the 2013 Winter X Games, had been considered a threat to take one of the first-ever medals in the slopestyle snowboarding competition, which will have its medal events take place on Saturday (men's) and Sunday (women's).
Irish snowboarder Seamus O'Connor had said the riders needed to speak up about fixing some of the jumps on the course, while 2013 slopestyle world champion Roope Tonteri of Finland dubbed the entire course "pretty sketchy."
"I think they wanted to make big kickers, and it's not really good for riders, and it's not really safe," Tonteri told the Associated Press. "I just don't want to get injured. It's not a really fun course to ride."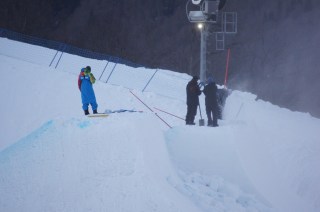 J.R. Celski watches Seahawks win Super Bowl with Heiden, Holcomb