EVENT SCHEDULE
Feb. 11 – women's normal hill first round 12:30 p.m. ET; final round 1:30 p.m. ET
TV SCHEDULE
Feb. 11 – women's ski jumping normal hill final round LIVE from 1:30 ET on NBCSN (also on NBC's primetime coverage starting at 8 p.m. ET)
MORE: Ten facts about the U.S. women's ski jumping team
After fighting to get women's ski jumping into the Olympics back around 2010, Lindsey Van and Jessica Jerome will get their wish in Sochi, as the event is primed to debut in 2014.
U.S. OUTLOOK
Van helps the sport break new ground
There's been a men's ski jumping event in every Winter Olympics since 1924, but helping to get the event going for women doesn't leave Van feeling boastful, as she told NBC back in November 2013.
"I don't see myself as a pioneer, I see myself as the older athlete who had to go through all of that," Van said. "I got to watch the sport go from nothing to where it is now."
Hendrickson bounces back
Sarah Hendrickson won gold in the 2013 World Championships, but her Olympic participation was very much in doubt after suffering a severe knee injury while training in August. She returned to the sport in January and seems poised to give it a go in Sochi, though.
Hendrickson posted this photo to Instagram to celebrate the achievement: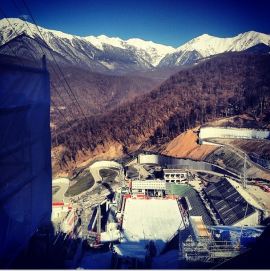 A significant breakthrough
The U.S. women's team discussed how meaningful it is for the sport to make it into the Olympics back in December.
"It's crazy to look back and see the development of the sport in the last two years; it's way more professional," Van said. "We have a World Cup circuit and a World Championship. It's really moving forward, it's cool to see it happen, it's unbelievable at times."
INTERNATIONAL OUTLOOK
One question is: how will Hendrickson, 19, stack up against Japan's Sara Takanashi?
In addition to Takanashi posing a threat, Russia's Irina Avvakumova has reached the podium six times during this World Cup season while Austria's Daniela Iraschko-Stolz managed to do so 10 times during the same span. Coline Mattel figures to be a contender for France, as well.
Click here for other international ski jumpers of note.