After reaching Sochi yesterday, the Olympic torch relay is continuing to move around the city on the day before the Opening Ceremony at Fisht Olympic Stadium.
The Sochi 2014 Twitter account has tweeted out a pair of photos this morning from the relay that feature British track and field legend Sebastian Coe and Sochi Olympic president and CEO Dmitry Chernyshenko (along with his youngest daughter) serving as torchbearers.
Other dignitaries such as United Nations Secretary General Ban ki-Moon and Russia's foreign and defense ministers have also taken turns carrying the torch today in Sochi.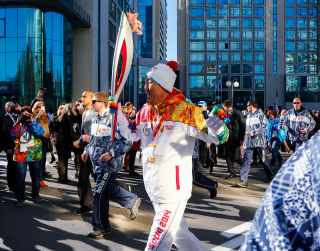 MORE: NBCOlympics.com video – The Olympic flame reaches Sochi