As you get ready for your day, check out what might be the first truly unbelievable video clip of the 2014 Olympics, as luger Shiva Keshavan leaves his sled yet avoids crashing in a stunning moment from Thursday.
You might not believe what happens at about the 40-second mark of this video. But it truly happens:
WATCH: Shiva Keshavan crashes, then makes amazing save
NBC Sports captured the near-crash in this image: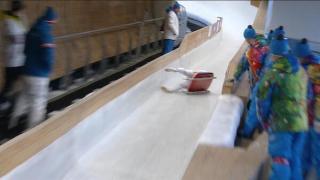 NBC's Joe Posnanski took a look at how fearless (sometimes "crazy") lugers can be, yet there's something to be said for keeping a cool head under trying circumstances.
You won't see many better examples of poise than what Keshavan displayed Thursday, though it seems that we're learning that such courage and calm comes with the territory.