SOCHI, Russia – Nearly all eyes fixed on orange at the conclusion of the 5000m at the Adler Arena on Saturday night.
Except for those of U.S. speed skater Heather Richardson.
While the Dutch celebrated a podium sweep led by champion Sven Kramer, she stared at a video scoreboard for two minutes with her phone at the ready, waiting for results.
Here's why:
My man just got a BRONZE 🙂 so proud! http://t.co/mlD4o7GiTB

— Heather Richardson (@hlynnrichardson) February 8, 2014
Dutch skater Jorrit Bergsma took bronze and joined Kramer and Jan Blokhuijsen on the podium, the second time the Netherlands has swept the medals in a single event. Multiple boisterous orange sections reveled.
Even Richardson, in black U.S. Speed skating garb and matching nail polish, grinned next to U.S. teammates in the athletes' section. (The top U.S. finisher was high school student Emery Lehman in 16th.)
The only person who seemed slightly disappointed? Bergsma.
"I came here for gold," he said.
***
Richardson and Bergsma will say their wedding vows sometime next year. For better, for worse, they've shared experiences watching each other skate the past three seasons.
It was a little different Saturday, it being their first Olympics together.
Richardson emerged into the stands just minutes before Bergsma skated and watched Kramer throw down an Olympic record time of 6 minutes, 10.76 seconds. Then came Bergsma, a 6-foot-3, 160-pound ultra marathon skater best known for beating Kramer in the 10,000m at this very arena at last year's World Championships.
Richardson scooched to the edge of her seat.
The starter's gun sounded.
Her eyes followed Bergsma around the 400-meter oval. He passed her shortly after finishing each lap. The first few were blistering, 29 seconds or better.
***
Bergsma is 28, one year older than Kramer, and has faced a gargantuan task of squeezing into the Dutch distance picture with Kramer and three-time Olympic medalist Bob de Jong, 37. The emergence of Blokhuijsen, 24, has complicated matters. (Bergsma tried to find a way around it four years ago in an aborted attempt to qualify for Kazakhstan for the Vancouver Olympics, with other Dutch skaters. They gave it up after learning it would have cost them their Dutch citizenship.)
He began dating Richardson 20 months after he missed the Vancouver Games. The American from High Point, N.C., took the initiative, breaking the ice with a Twitter message.
That led to texting, Skyping and dating the last three World Cup seasons as both blossomed as Olympic medal threats. Bergsma in the lung-searing 5000m and 10,000m and Richardson in the 500m and 1000m sprints.
Bergsma proposed in April during a vacation with the Richardsons in Myrtle Beach, S.C. His plan was to sneak onto the beach outside where they stayed.
"He actually took my phone down there with him and he actually called my mom right before he was about to do it so she was out on the balcony to see it as well," Richardson told NBCOlympics. "Then he was calling his phone that was still in our room, and I'm like 'Why is his phone ringing? I don't even know where he is right now,' and so he had to call like three times and I finally answered the phone like, 'Uh hello,' and he was like, 'Go to the balcony.'"
They plan to get married next year. Richardson has talked about starting a family and moving to the Netherlands, but the former is far off and the latter isn't set yet.
They skate for now. Pretty well, too.
Bergsma, who will get another shot at Kramer in the 10,000m on Feb. 18, has set personal records in the 1500m, 3000m, 5000m and 10,000m this season.
Richardson, too, is strong across distances with World Cup podiums in the 500m, 1000m and 1500m this season. The 2013 World Sprint Champion is arguably the gold-medal favorite in the 1000m.
She's in her second Olympics after switching from inline skating and had a best of sixth at the Vancouver Games.
***
Bergsma skated past Richardson 12 times in Saturday's race. Eleven times, she leaned forward and yelled words of encouragement to him.
Bergsma, who knew Richardson was there but could not make out her voice, faded over the final three laps and finished 5.9 seconds behind Kramer, slotting into second place.
"I felt at the end, if I want to skate for gold, I have to accelerate a little bit," Bergsma said. "I tried to do that, but then I blew myself up. I lost a lot in the last laps."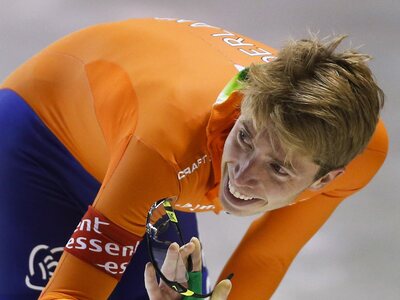 Bergsma lost more with the next pair as Blokhuijsen skated .95 faster.
"Silver I gave away," Bergsma said. "It became bronze."
Richardson didn't see it that way. She was inspired.
"I'm excited for him," she said, "and he makes me excited for races."
They'll switch places Monday when Richardson goes in the 500m, seeking the first U.S. women's speed skating medal since 2002. Like Bergsma, she is a medal contender and would savor being able to share the Olympic medalist experience with her fiance.
"I think I might be a little more happy to get my medal," she joked, "but I'm so proud of him."
A Winter Olympics athlete couple story would be remiss without a mention of Valentine's Day plans. There are no speed skating events on Feb. 14, but they haven't set anything yet during coffee dates and bike rides together in the Olympic Village.
"With the races we also need our focus, and so we cannot enjoy too much with each other," Bergsma said. "Sometimes it's difficult to find the balance between focus on the races and being with each other."