KRASNAYA POLYANA, Russia – Ole Einar Bjoerndalen has traveled to the United States a few times. Salt Lake City for the 2002 Olympics. New York. A volleyball tournament on Laguna Beach, Calif.
Can he recall ever being recognized?
"No, I don't think so," Bjoerndalen told the entire U.S. media contingent at Norway biathlon's media day last week.
It was a one-on-one interview.
Bjoerndalen, known as the "Biathlon King" in Norway, matched the record for most career Winter Olympic medals over all sports – 12 — by winning the opening 10km sprint Saturday evening. His nicknames also include "Cannibal" for his hunger for success and "Klumpi," after a character in a children's comic strip series.
U.S. sports fans appreciate records and longevity achievements. Remember Michael Phelps' pursuit of Soviet gymnast Larisa Latynina's record of 18 Summer Olympic medals in 2012?
Bjoerndalen is finally getting some due across the Atlantic. Just in time, too, as these are his final Olympics.
He is 40, at his sixth Winter Games, and now the oldest Winter Olympic champion in an individual event.
WATCH: How is Bjoerndalen so good at 40?
In the U.S., he has gone largely unnoticed during a sterling 21-year professional career that has mostly taken place in Europe. And in the only sport in which the U.S. has never won an Olympic medal.
So, who is Ole Einar Bjoerndalen?
"He's known to be a bit of a boring person," Norwegian TV reporter Anders Skjerdingstad said. "He's never in any kind of controversy. He's always polite and serious about sports."
Two days before his record-tying gold, Bjoerndalen stood in the middle of a brown, snow-surrounded patio at what's called the Endurance Village up in the Caucasus Mountains, a short, bumpy van ride from the Sochi Olympic biathlon venue.
Norway's women's cross-country and men's biathlon teams held back-to-back media gatherings. The turnout was strong for the Scandinavian nation's press contingent, a few TV stations and several more print reporters. There were a few from other European nations and one American reporter.
Bjoerndalen was hardly the center of attention. Most came at first for cross-country queen Marit Bjoergen, a reticent brunette who could win an unprecedented six gold medals at these Games (and eventually take the career Olympic medal record from Bjoerndalen).
Later, the biathlon press officer handed a piece of paper to each media member with a speed-dating like interview schedule. A few minutes at a time. Then the biathlete moves onto the next reporter.
Bjoerndalen was the second most requested team member behind Emil Hegle Svendsen. Svendsen, 28 and once dubbed the "Prince" by Norwegian media, has been Norway's best biathlete since the 2010 Olympics.
Svendsen laughed at trying to fill Bjoerndalen's boots.
"I won't even reach his ankles," he said.
MORE: Bjoerndalen set for Olympic bow in Biathlon
Svendsen recalled being woken up by his father to watch Bjoerndalen win his first gold medal at the 1998 Nagano Olympics in the middle of the Norwegian night. Bjoerndalen became a national hero.
"I think there was like a thing a couple years ago where they asked how many people knew [Bjoerndalen] in Norway," Svendsen said. "I think 98 percent of the population knew."
Svendsen, 6-foot-1 with chic dark sunglasses and classic Scandinavian blond hair, looked much more an athletic superstar than Bjoerndalen as they stood together for photos.
Bjoerndalen, listed at 5-foot-10 with a dimpled chin, wore a hood with red shades and was comfortable answering English questions about what kept him going at 40 years old.
"What is motivation?" he asked. "I have this from childhood, I think."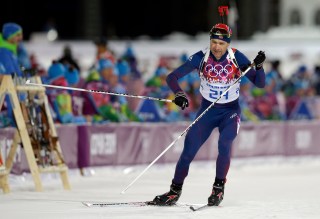 Bjoerndalen was born at or near in the industrial river city of Drammen, the same birthplace as legendary speed skater Johann Olav Koss.
He was the fourth of five children to a farmer and a housewife.
"He was growing up on a very small farm in Norway in very poor conditions," said Ola Lunde, who coached Bjoerndalen at three different periods from 1990 through 2002.
Bjoerndalen took up biathlon at age 10 alongside one of his older brothers, Dag. He did both biathlon and cross-country skiing until age 17, when he began to focus on the former.
"Coming from a simple family with a lot of training when I was young," Bjoerndalen said. "The right atmosphere around you growing up."
A prodigy, he was one of two 18-year-olds chosen to represent Norway at the 1993 Junior World Championships. Bjoerndalen took 23rd and 47th in two individual events.
"He should not have come there," said Lunde, since top junior worlds competitors are normally 19 or 20. "It was one year before they should go to the World Championships, but it was very important for them to get experience. They had potential I had never seen before."
The next year, Bjoerndalen returned to the Junior World Championships and won both events. He made his Olympic debut a year later in Lillehammer, Norway, and placed 28th and 36h in two individual races and seventh in a relay.
His career-defining moment came four years later at the Nagano Olympics. Bjoerndalen was on pace to win the 10km sprint when the the race was stopped after 40 minutes due to snow and fog making the shooting targets nearly invisible.
It was rescheduled for the following day. Bjoerndalen started over, shot cleanly and won by more than one minute, the same margin separating second place from 18th place.
"My coolest feeling ever," said Bjoerndalen, who also took a relay silver in 1998.
He was just getting started. Bjoerndalen swept the four biathlon golds at the 2002 Olympics, giving him six total Olympic medals.
He entered a cross-country race to boot in Salt Lake City and finished fifth, but the original winner by more than two minutes was stripped for doping.
The blistering, tainted pace the drugged-up German turned Spaniard set ruined the competition. Bjoerndalen used all of his energy to keep up early and was second going into the final lap but faded out of the medals. A Swedish pre-race favorite dropped out less than halfway through.
Bjoerndalen won three more individual medals at Torino 2006 – none gold, thanks to the flu – and a relay gold and individual silver at the 2010 Olympics.
That gave him 11 total, one behind countryman Bjorn Daehlie, who won a record 12 over three Olympics from 1992 to 1998. Daehlie's treasure chest included eight gold, four silver and no bronze.
Daehlie was known for flashes of flamboyance, crossing finish lines skiing backwards, mimicking war dances and blowing kisses. He was accused of doping during his career in a Swedish film last February and denied blood doping on prime-time TV.
That's a contrast from Bjoerndalen. In October, he wasn't present when drug testers showed up at his Austrian home. He blamed "sloppiness" on his part for not notifying anti-doping authorities he was training in Oslo. No harm done.
He's reported to abstain from alcohol, save gargling cognac in the morning, and doesn't let the public see his frustrations. Though he does curse, Svendsen said, and throw ski poles, Lunde said.
Bjoerndalen and Daehlie have been friends for two decades.
MORE: The race to be the most decorated Winter Olympian
"For me, [Daehlie] is still the biggest star in Norway and in the world," Bjoerndalen said. "He's really a big hero."
One memory stood out to Bjoerndalen in particular, when Daehlie, near the end of his career, called Bjoerndalen after the 1998 season.
"[Daehlie] said, 'What the hell are you doing, because you are so strong this year. I need to know exactly everything what you have done this year,'" Bjoerndalen said. "It's really interesting speaking with him. I get a lot more back from it."
Bjoerndalen didn't think Daehlie would attend the Sochi Olympics.
"He has a lot of things to do," he said in a nod to Daehlie's real estate, fashion and media ventures. "I think he will sit home and look on a TV."
But there Daehlie was Saturday as Bjoerndalen picked up medal No. 12 and gold No. 7 in the 10km sprint. They embraced afterward. Daehlie knew Bjoerndalen will hold the total medals record by himself by the end of the Olympics.
"I give it away and bow into the dust," Daehlie told Norwegian TV. "I've got to think that Bjoergen and he can fight for new records, actually. Mine will go up in smoke in the next couple of days."
Bjoerndalen's sprint victory set him up for a record-breaking 13th medal in the 12.5km pursuit on Monday. In the pursuit, skiers start at intervals based on their finishes from the sprint. Bjoerndalen will go first as the winner. Essentially, he gets a head start for winning the previous race.
Norway is also favored to win both the men's relay and the debut of the mixed relay next week. Golds in each of those events would likely mean Bjoerndalen finishes his career with more gold medals than anybody else.
Bjoerndalen said those records weren't his goals coming into Sochi. His objective was one more gold medal.
"He wants one perfect [individual] performance," Lunde said.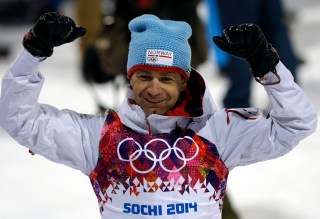 He got it and said after winning Saturday, "I am satisfied now. … I made my gold and that's cool."
That simple, flawless vision fits with his demeanor. Bjoerndalen rarely makes headlines for anything other than competition. His work ethic is stuff of legend. Reporters joke that he celebrates victories by riding a stationary bike.
"He's single handedly changed the sport," said three-time U.S. Olympic biathlete Tim Burke. "He really turned it into a professional sport, in the late '90s, I would say. He's very innovative, and he became so dominant that everyone else had to react to the way he was training to be competitive."
He's spent more time living in at elevation in Austria and Italy than Norway. Over the holidays, Bjoerndalen stayed at an Italian village at 4,500 feet, the same altitude as the Sochi biathlon venue.
Other nations have filmed his skiing and told their biathletes to copy it. In shooting, he was one of the first to switch from two- or three-breath cadences to one breath between shots.
"You were seeing athletes taking up to 40 seconds in the shooting range for their five shots," Burke said. "Now, in standing [position, versus prone], it's low 20s."
Bjoerndalen has also excelled mentally, key in a sport where a simple concentration lapse in the shooting range can cost one medals. A Norwegian vacuum cleaner and air purifier salesman turned motivational speaker was once his psychology coach.
He stayed largely injury free until 2011, when Bjoerndalen, who doubles as a carpenter, suffered a back injury while reportedly lifting a log as he helped somebody chop firewood.
He spent 10 days in a hospital. Even worse, he couldn't train fully for five weeks.
Off the snow, he also enjoys rock climbing, motorcycles and Dire Straits. He converses in Norwegian, German and English on his Facebook page, which has about 91,000 likes, comparable to NFL running back Maurice Jones-Drew.
In 2012, he divorced his wife of six years. He also fell behind some of Norway's younger biathletes. Some called for him to retire.
Bjoerndalen would have none of it. His "sporting philosophy," according to his Sochi 2014 athlete bio, includes the line, "grit your teeth and get the best out of yourself."
He persevered and moved right back behind Svendsen as the Norwegian No. 2 this season.
"He's as good now as he's ever been," Burke said.
MORE: France's Fourcade threatens Bjoerndalen's swansong
Norwegian media say Bjoerndalen's popularity is largest in Germany and Russia, where biathlon is more popular.
At home, the top cross-country skiers and Svendsen receive more headlines these days since they win more often.
"Ole is sixth or seventh," most famous now, Lunde said.
Bjoerndalen looks likely to stay a part of the Olympic movement after retiring from competition.
He is one of nine candidates for election to the International Olympic Committee Ahletes' Commission. Two spots are available. His résumé would seem to stack up pretty well.
This 1,000-pound bronze statue, reportedly unveiled with King Harald V in attendance, is a lasting symbol of Bjoerndalen's legacy in Norway.
"My first reaction was, 'I'm not dead yet!'" the watch-collecting Bjoerndalen said, according to Sport Express. "My career isn't over yet!"
Bjoerndalen has at most five more races left as an Olympian. If he does at least four, he will break one more Olympic record for the most events entered in a career.
Longevity is a point of pride in Norway. The Norwegian Olympic Team media guide lists the nation's average male (79.4) and female (83.4) life expectancies on page two.
Biathlon followers have enjoyed the King for two decades. In Sochi, those just tuning in can catch the final chapters of an unmatched career. Bjoerndalen will enjoy it, just as he has collecting 12 medals over 22 Olympic events in six Winter Games so far.
"You want to be the best in your sport," Bjoerndalen said. "This sport has never been a job for me. Always a hobby. I want to create my sport, always. So, yeah, I do like my sport."