Every now and then, athletes shake off painful injuries and setbacks that would leave normal people on the mend indefinitely. Men's ski jumper Robert Kranjec did so on Saturday, limping off after this jarring moment captured by NBCOlympics.com.
WATCH: Kranjec's nasty fall — and rise
The Associated Press captured Kranjec at what might have been his most uncomfortable moment: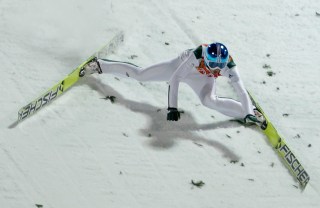 Yikes.
Word from FIS is that he won't be able to compete today because of a knee injury likely suffered during that fall, but he it doesn't sound like he's been ruled out of the Olympics altogether. The 32-year-old may attempt to get back into the groove when large hill competition kicks in on Feb. 15.