If you believe the account from her Instagram post, Czech snowboarder Sarka Pancochova is "all good" after a scary fall that cracked her helmet on Sunday.
WATCH: Pancochova falls during slopestyle final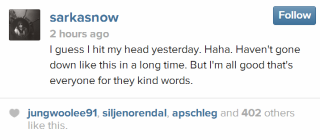 It seems like she's laughing the whole thing off, so hopefully she's indeed OK.
Pancochova performed well on Sunday, posting the best time in the snowboard slopestyle semifinals and coming in fifth in the finals with a first run of 86.25. The fall happened during her second run.