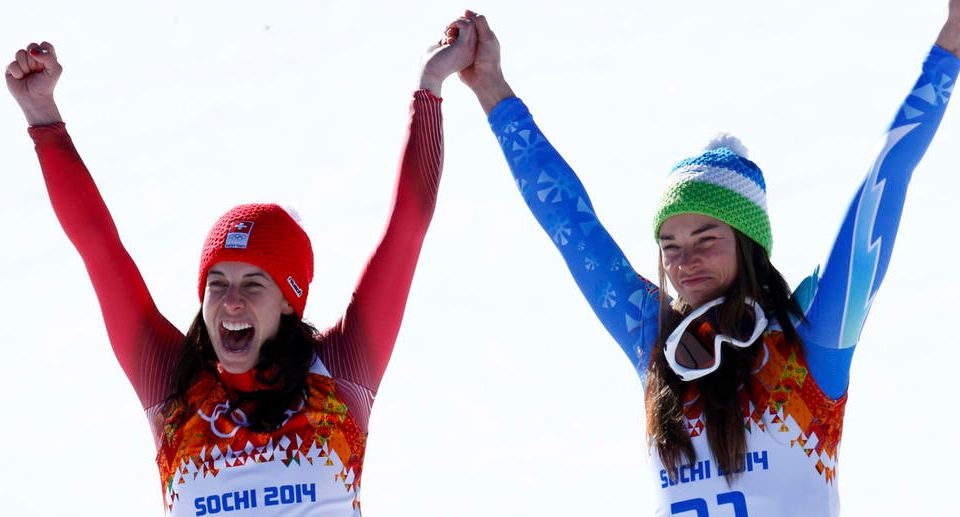 Sharing a gold medal? Tina Maze doesn't sound like she minds.
Slovenia's first medal winner of the games staged a dramatic run in women's downhill on Wednesday, turning in the same time as Switzerland's Dominique Gisin, who was leading for much of the race. But while some might not want to stand alone atop a podium, Maze was happy to share.
WATCH: How the pair tied for gold
"It's better to be two on top than one to be 1/100th behind," she said. "Two happy faces."
Both women, unprecedented joint champions in Wednesday's downhill after clocking exactly the same time at the Sochi Winter Olympics, have previously shared the podium with someone else.

Gisin's very first win on the World Cup circuit, in the Austrian resort of Altenmarkt-Zauchensee in January 2009, was shared with Sweden's Anja Paerson in a time of one minute, 47.52 seconds.

The first World Cup win of Maze's career, on the Austrian glacier piste at Soelden in 2002, was a three-way tie at the top in a giant slalom with Austrian Nicole Hosp and Norway's Andrine Flemmen.
To read the rest of the story, click here.