After seeing the U.S. send T.J. Oshie out for a dizzying six shootout attempts in a 3-2 win against Russia on Saturday, many people probably asked: "Why?"
The 27-year-old has never scored more than 19 goals in his young career and is far, far down the list of the team's most recognizable players. To some, it was flabbergasting that U.S. head coach Dan Bylsma kept sending him out for big attempts while high-scoring forwards Phil Kessel, Zach Parise and Patrick Kane watched from the bench. Especially since Russia rolled out stars Ilya Kovalchuk and Pavel Datsyuk in the same situation.
But it worked, as he nailed four of six, including the deciding tally.
VIDEO: Watch OT and the shootout again
If you want a little more background on Bylsma's decision-making process, here's a quick look at how Oshie has fared in shootouts at the NHL level:
Oshie is currently tied with Logan Couture and Jonathan Toews for the NHL lead in shootout goals with seven. While those players have connected on a bit more than 50 percent of their attempts, Oshie's success rate is 70 percent this season.
He didn't receive a ton of chances in the lockout-shortened 2012-13 season, but he connected on two of his three attempts.
Since coming into the league in 2008-09, Oshie has 25 shootout goals.
Does that mean he deserved every chance? That's debatable … but it's clear that there was plenty of logic behind what seemed to some like a strange strategy.
Part of the plan
ESPN's behind-the-scenes look at the U.S. team's construction hints that Oshie was on the bubble for a final roster spot alongside the likes of Brandon Saad and Bobby Ryan. His shootout prowess may very well have been the tie-breaker, at least to U.S. GM David Poile.
"Oshie's got that shootout move," Poile said.
Oshie's post-game reaction seems fitting, then; he told NBC's Pierre McGuire that he was "running out of moves" as his attempts kept piling up.
As this great panoramic shot from AP reveals, his teammates seemed OK with him taking shootout shot after shot: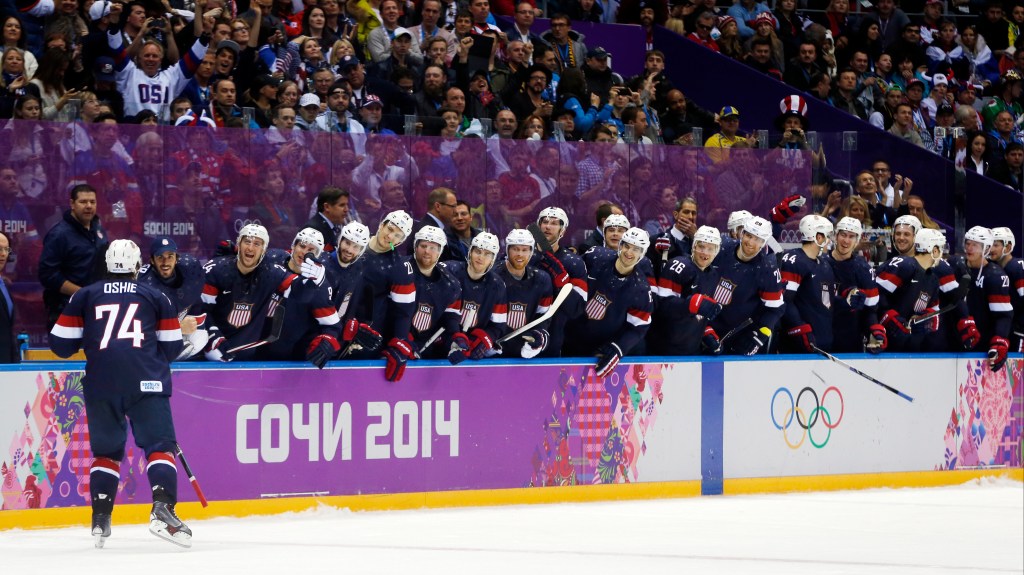 T.J. Oshie (@OSH74) has a pretty simple strategy when it comes to shootouts. #TeamUSA #Sochi2014 #Olympics pic.twitter.com/SGfNt5mDuk

— NBC Sports (@NBCSports) February 15, 2014