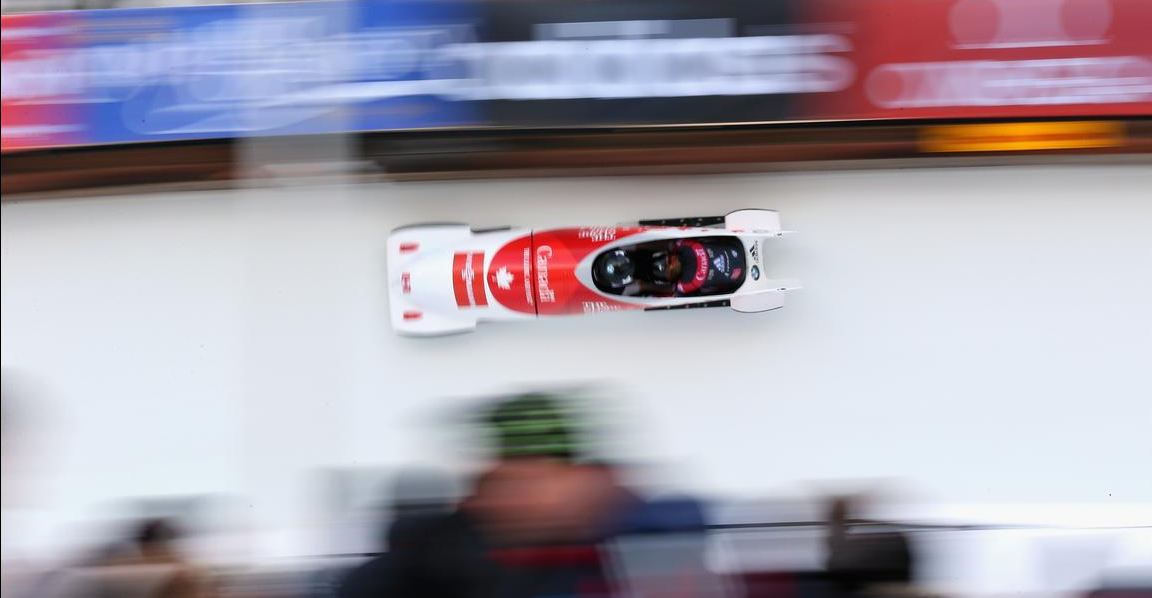 KRASNAYA POLYANA, Russia – Canadian Kaillie Humphries and American Elana Meyers are co-gold-medal favorites in the two-woman bobsled event Tuesday and Wednesday, one of the most anticipated head-to-head matchups of the Olympics. (Watch it LIVE online or on your mobile device.)
Separated by one point in this season's World Cup standings, Humphries calls their rivalry a "battle royale." They talk a little trash, too.
The bobsled season ends with the Olympics, but Humphries and Meyers will reconvene in April, wearing dresses instead of skin suits.
That's because Meyers invited her biggest threat to her wedding.
"I was really honored, actually," Humphries said. "It was one of those moments that you realize it's not just about sport."
Humphries became the youngest female Olympic bobsled medalist when she won on home ice four years ago at age 24. The Calgary native is the two-time reigning world champion and World Cup champion. Sporting multiple tattoos and a half-shaved head, she is the standard of the sport. A gold in Sochi would make her the first two-time Olympic women's bobsled champion (the sport debuted in 2002).
She has even bigger plans.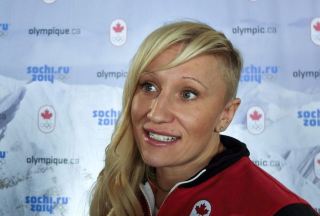 Humphries has been pushing the International Bobsled Federation (FIBT) to either add four-woman bobsled events or to let her drive a sled in a four-man race with three female or three male push athletes behind her.
The first Winter Olympics in 1924 included four-man bobsled. In 1932, two-man bobsled debuted. In 2002, a two-woman event started. Four-woman bobsled has yet to get going on the World Cup circuit, which would be a precursor to Olympic inclusion.
"Chicken and the egg, [a four-woman race] has got to start somewhere," Humphries said. "It's an envelope that I know I'm pushing. I'm hoping not too soon, but we'll see."
Humphries said the notion of racing against men is more realistic because of Meyers (metaphorically) pushing her.
They trained together this summer at the World Athletics Center in Phoenix, Ariz., a facility founded by two-time Olympic discus medalist John Godina. That decision was born out of a conversation between Humphries and Meyers during warm up at the 2013 World Championships.
"We wanted to take this sport to another level," said Meyers, who went on to take silver behind Humphries at worlds. "We wanted to see how much we could challenge men."
Humphries' strength coach since 2007, Stu McMillan, was going to start working with U.S. Bobsled. The two had a thorough discussion before deciding to train alongside her biggest competition for gold in Sochi.
"We both agreed that in order to be the best, and in order to stay on top, I have to be able to be pushed," Humphries said. "And Elana, she's a competitor. She is my No. 1 competitor. It's hard to continue to stay motivated, to stay on top. I knew that I needed somebody to push me."
The brunt of their side-by-side work came in the weight room. If Meyers felt an inkling to give up on a tough lift, the reigning world and Olympic champion was a constant reminder. McMillan motivated both even more by sending each woman video of the other's workouts.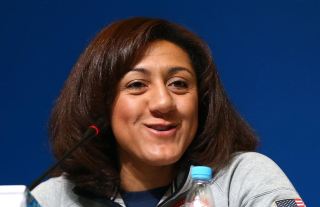 "He knew how to push our buttons," said Meyers, a former college softball player who said she's now in the best shape of her life. "He knew how to get under our skin."
The partnership paid off immediately for Meyers, who had been sixth in the 2012-13 World Cup standings in her third season as a driver.
At the first World Cup on Nov. 30, Meyers finished second to Humphries on the Canadian's hometown track in Calgary. The next week she swept two races in Park City, Utah, her first career World Cup victories. It was sweeter that Humphries was in the field, finishing second and seventh in those races.
"To show that it's not impossible [to beat Humphries]," Meyers said. "To show that she can go down. Hopefully, it got in her head a little bit, too."
Maybe it did.
Humphries won 11 of 14 World Cup or World Championships races in a span from 2011 to 2013. She's since won two of the last seven World Cup races going into the Olympics.
"The gap has definitely been closed," Humphries said. "That's part of the game. As much as I don't necessarily like it, I like when the gap is fairly big, that's sport. That's better for bobsleigh."
In hindsight, Humphries doesn't regret training with Meyers.
"I can't do it alone," Humphries said. "I didn't get here alone. I'm certainly not going to stay here, nor am I going to continue to be at the top alone. She isn't somebody that a lot of people would assume would be in my inner circle family, but at the end of the day I have just as much to learn from her, being around other people that are exactly like me, that adopt the same philosophies of hard work, preparation, determination. They're very few. I see a lot of that in Elana. Being able to be reminded of that, especially at times when I'm weak, is a benefit to me."
The training could create parallels between Humphries' and Meyers' careers.
Humphries was a brakeman in 2006 (an alternate), who became a driver after and won gold in her Olympic driving debut.
Meyers won a 2010 Olympic bronze medal as a brakeman for Erin Pac.
Also, Meyers shares Humphries' groundbreaking ambition. She would like to be the U.S. Olympic Committee CEO one day. She has looked up to Humphries as far back as Vancouver.
"I felt like a lot of times Erin [Pac] was constantly comparing herself to Kaillie," Meyers said. "In comparison, Kaillie doesn't care. Kaillie's going to go out there and rock it, or not rock it, and throw caution to the wind and do whatever she needs to win a race. That's the type of driver I want to be."
U.S. coach Todd Hays called the Meyers-Humphries partnership strange, given he competed in the late 1990s and early 2000s. In that era, training with the dominant Germans or Canadians wouldn't have been accepted. But Hays likes it now.
"It puts a little more human factor to her competitor and the Olympic champion," he said. "[Meyers] sees [Humphries'] day-to-day personalities, struggles and insecurities.
"She realizes that Kaillie is just another human being. She can beat her any given day."
Which leaves one question. If Meyers beats Humphries for gold on Wednesday, does she expect to see her at the wedding?
"We'll see how the Olympics turn out," Meyers said. "Maybe she'll change her mind."