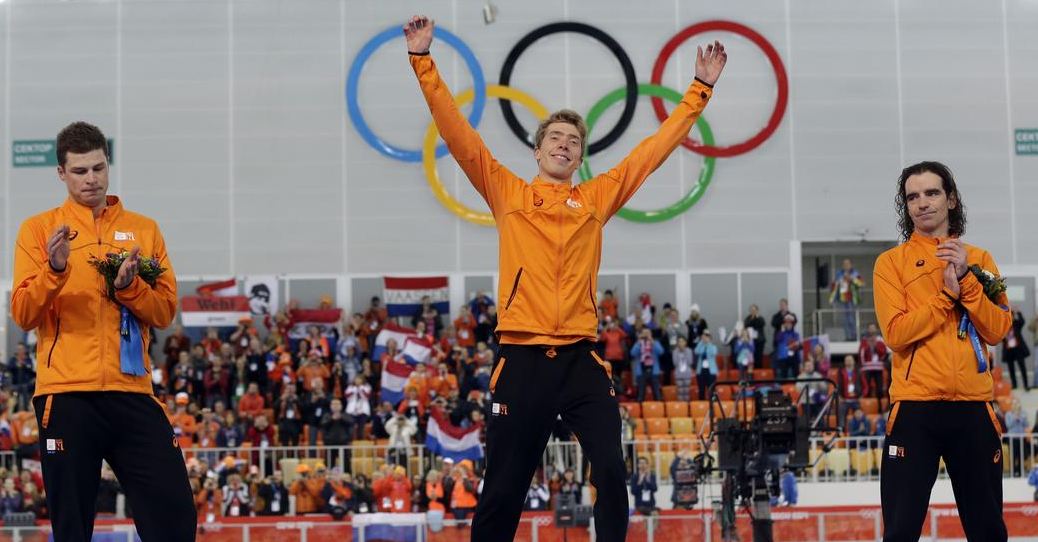 SOCHI, Russia – Hans Van Zetten has lived a pretty fascinating Dutch life. He was a high level gymnast before getting hurt. He joined the army and became a Lieutenant Colonel. After he got out, he became the Netherlands' national gymnastics coach. After that, he became a hugely popular television commentator for gymnastics and figure skating. He seems to be about as popular an announcer there as, say, Vin Scully is in America.
Now, Van Zetten looks out at the speed skating track.
"I do not understand this sport," he says. "To me, they just go round and round. I like things that are artistic, you understand? This is my background. Artistry. This takes great strength and endurance. This is not artistic."
Then he sits down and settles in for the longest speed skating race there is, the 10,000 meters. He shrugs his shoulders.
"I am Dutch," he says. "So I am here for my country."
* * *
You probably have heard that what the Netherlands is doing in Olympic speed skating here is somewhere North of insane and West of impossible. They have given out 27 speed skating medals in Sochi so far. The Netherlands has won 19 of them.
Yeah, take a moment to ponder that. Nineteen of 27. There have been nine speed skating races. The Dutch have won gold in six of those and medaled in all nine. The Dutch have swept gold-silver-bronze FOUR TIMES already. The Dutch have as many speed skating medals as Russia has TOTAL medals.
Speed skating is everything in the Netherlands. Everything. The Dutch have won 106 Winter Olympic medals. They have 101 of them in long track speed skating. The Netherlands produces the television feed for the Olympics. They bring the most fans to every event around the world, most of them decked in orange. When a major speed skating championship is held – from Moscow to Salt Lake City – there will inevitably be Dutch advertising on the wall surrounding the track. That's because more people are watching in the Netherlands than anywhere else.
Put it this way: At the speed skating venue, there are clocks on the wall showing the time in four cities around the world. One is Sochi. The other three are Calgary, Nagano and Heerenveen. Well, three of those are Olympic cities. The fourth? Heerenveen is a city of about 30,000 in the North of the Netherlands. Why is it on this wall? You can only assume because it's the hometown of Sven Kramer, one of the greatest of all Dutch speed skaters and the man who all of us came to see race on Tuesday.
In speed skating, see, EVERYONE is on Dutch time.
RELATED: Dutch dominance leaves some feeling sick
Kramer came in to Tuesday's event having already won at 5,000 meters, his second Olympic gold medal and fifth Olympic medal overall. Yet, it wasn't his extraordinary success but his one crushing disappointment that made him the story. In Vancouver four years ago, Kramer was the huge favorite to win the grueling 10,000. And he thought he did win. He rose his arms as he crossed the finish line seconds faster than anyone else.
Unfortunately he made a blunder that was so fundamental, nobody is quite sure what to compare it to in other sports. Maybe it is like missing a base after hitting a home run. See, in speed skating, the skaters switch lanes every lap (because the inside lap has a shorter distance around the turns). On the 17th of the 25 laps, Kramer was about to change lanes when a coach frantically pointed to the wrong lane. Kramer followed the coach's instructions and so was in the wrong lane for the rest of the race.
He was disqualified.
Kramer was desperate for redemption. He even skipped one of his usual races so that he would be fully rested for the 10,000. He knew the whole nation would be back home watching.
Kramer also knew that his greatest challenges would come. … from other Dutch skaters. "Every Dutch person skates, every single one," Van Zetten says, and to explain the popularity of the sport he told me about an extraordinary thing called the Elfstedentocht. Whenever winter in the Netherlands gets cold enough to create thick ice around the country  – this has not happened since 1997, by the way – the country will hold an outdoor 200-kilometer race through 11 cities, all of it on natural ice. The winner of the Elfstedentocht is held in esteem for the rest of his or her life.
But the Elfstedentocht is more than a race. It is a national celebration of ice skating. Twenty-thousand or more people participate, and the number is only that low because they cap it. There's a HUGE waiting list just hoping to get into the Elfstedentocht. For a nation dwarfed in size and history by surrounding nations like England and Germany and France, speed skating is something that belongs to the Netherlands, something that is their very own.
"We have so many great skaters back home," said the Netherlands' Jorrit Bergsma,  Kramer's top competitor. "There is so much competition all around us. This makes us stronger."
RELATED: Dutch prime minister halts Bergsma in full flow
The first Dutch skater to go in the 10,000 was 37-year-old Bob de Jong, who was competing at his fifth Olympics. He was the silver medalist at the Nagano Games – when Kramer was just 11. He won the 10,000 gold in Torino and won the bronze in Vancouver.  Bob de Jong got off to a superb start, but he is 37, and this race is a little more than six miles. He simply could not sustain the pace. He still finished more than seven seconds faster than anyone who had raced before him. He literally lapped the German Alexej Baumgaertner racing beside him.
"This was not fast enough," Van Zetten sad. "Maybe for bronze."
Van Zetten, who had talked about how little he knew about the sport, suddenly seemed to know quite a bit.
Next was Bergsma, and he got off to a solid but unspectacular start. He was ahead of de Jong's pace, but not by much. Halfway through the race, he was on pace for a good but not great time. Then, suddenly, something took hold of him. He would say that it was a feeling he'd never felt before. He just took off.
The best skaters in the 10,000 will have occasional 400-meter laps at 30 seconds. That is absurdly fast for a race this long (it's roughly 30 mph), and few can maintain that pace for very long. Nobody does 30-second laps in the second half of the race.
Bergsma not only skated 30-second laps but four laps in a row BROKE 30 seconds. For a sea-level race like this one (skater go quite a bit slower at sea level than at altitude) this was simply unprecedented. The people who know compared it to running a four-minute mile at in the latter stages of a marathon.
"No, I've never done this before," Bergsma said with a big grin on his face. His time of 12:44:45 shattered the Olympic record by more than 14 seconds and broke Kramer's sea-level world record too. The final 2000 or so meters were about as extraordinary as anything that will be done at these Games.
Then it was Kramer's time. He understood the challenge of what he had to do. And he went out fast. Crazy fast. Halfway through the race he was not only three seconds ahead of Bergsma's pace, he was on pace to set a world record. Not the sea-level world record, but the overall record. His strategy was simple: He had to go as fast as he could for as long as he could. And then he had to hold on at the end.
The trouble was, Bergsma's last few laps were indescribable, and Kramer could not keep up. His three-second lead began to fade, slowly at first and then he would dropping almost a second a lap. With two laps to go for Kramer, Bergsma hugged his coach. He knew he had won the gold medal. Kramer skated nine seconds faster than the previous Olympic record. But it was five seconds off Bergsma's gold. And the final result fit right in line with these Games.
Gold: Jorrit Bergsma, Netherlands
Silver: Sven Kramer, Netherlands
Bronze: Bob de Jong, Netherlands
"Jorrit was unbeatable today," Kramer said. "He was unbelievable. And I wasn't good enough."
Bergsma, meanwhile, was asked if he felt for Kramer because of what happened in Vancouver. First, the press conference was paused while he took a call from the Dutch Prime Minister. Then he said he did feel sympathy. But, in one of my favorite quotes of the Games so far, he added: "I will not give my gold away for Sven's story."
RELATED: Kramer falls short in elusive 10,000 quest
The Dutch are skating on a different plateau, they are having their own Olympics at the Adler Arena, where the only real time that matters is Heerenveen time. Hans Van Zetten thoroughly enjoyed the event. He felt sad for Kramer but was awed by Bergsma and thrilled for de Jong's to win a medal at the final Olympics.
"This is our pride," he said of speed skating and the Netherlands. "This is ours. Every country should have its pride. Don't you agree?"