Finland's team of Iivo Niskanen and Sami Jauhojaervi won out in a wild finish to the men's cross-country team sprint that earned a protest of the results.
The final moments of the event saw contact made between leader Jauhojaervi and German skier Tim Tschnarke that sent the latter falling into the snow.
One camera angle appeared to show Tschnarke moving inside in an attempt to get behind Jauhojaervi, while another appeared to have the Finn coming across Tschnarke.
Either way, the contact was made and the German went down, causing the gold to be settled between Jauhojaervi and Russia's Nikita Kriukov.
Jauhojaervi beat Kriukov to the stripe by less than a second, but then came word of the protest.
Ultimately, however, the results stood up after an official review. The Germans finished seventh after the incident.
Meanwhile in the women's team sprint, Norway set things right after coming away empty-handed in last weekend's relay.
Their team of Ingvild Flugstad Oestberg and the "Iron Lady," Marit Bjorgen, won by over nine seconds over the silver medalists from Finland, with Sweden earning the bronze.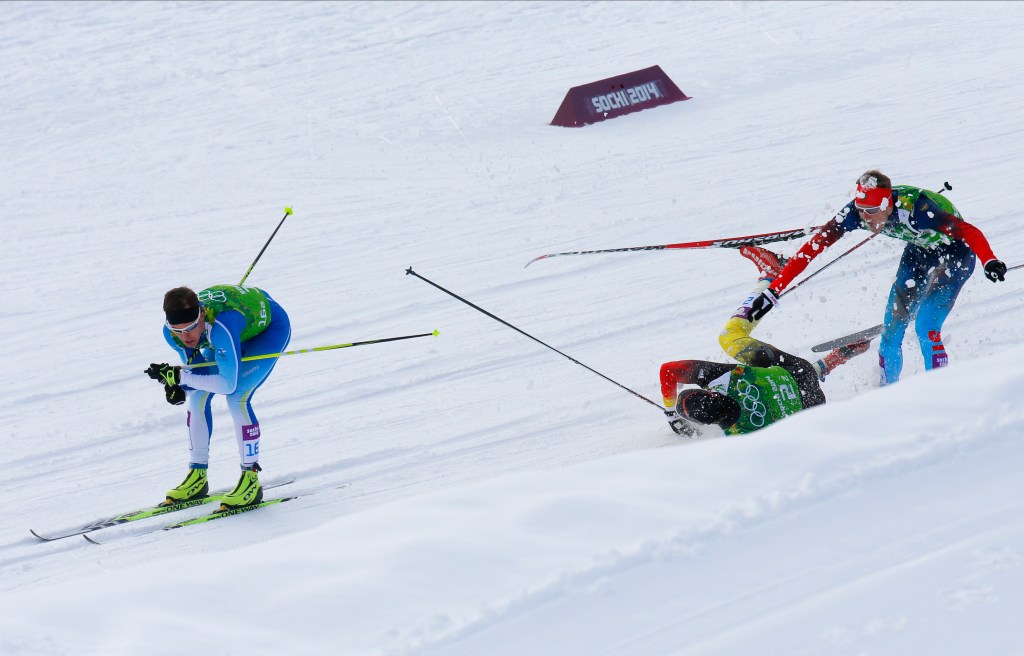 MORE: Ladies' figure skating preview – Yuna, Yulia and Mao lead the way
MEN'S CROSS-COUNTRY – TEAM SPRINT (CLASSIC)
1. Finland, 23:14.89
2. Russia, 23:15.86
3. Sweden, 23:30.01
—
6. United States, 23:49.95
WOMEN'S CROSS-COUNTRY – TEAM SPRINT (CLASSIC)
1. Norway, 16:04.05
2. Finland, 16:13.14
3. Sweden, 16:23.82
—
8. United States, 16:48.08